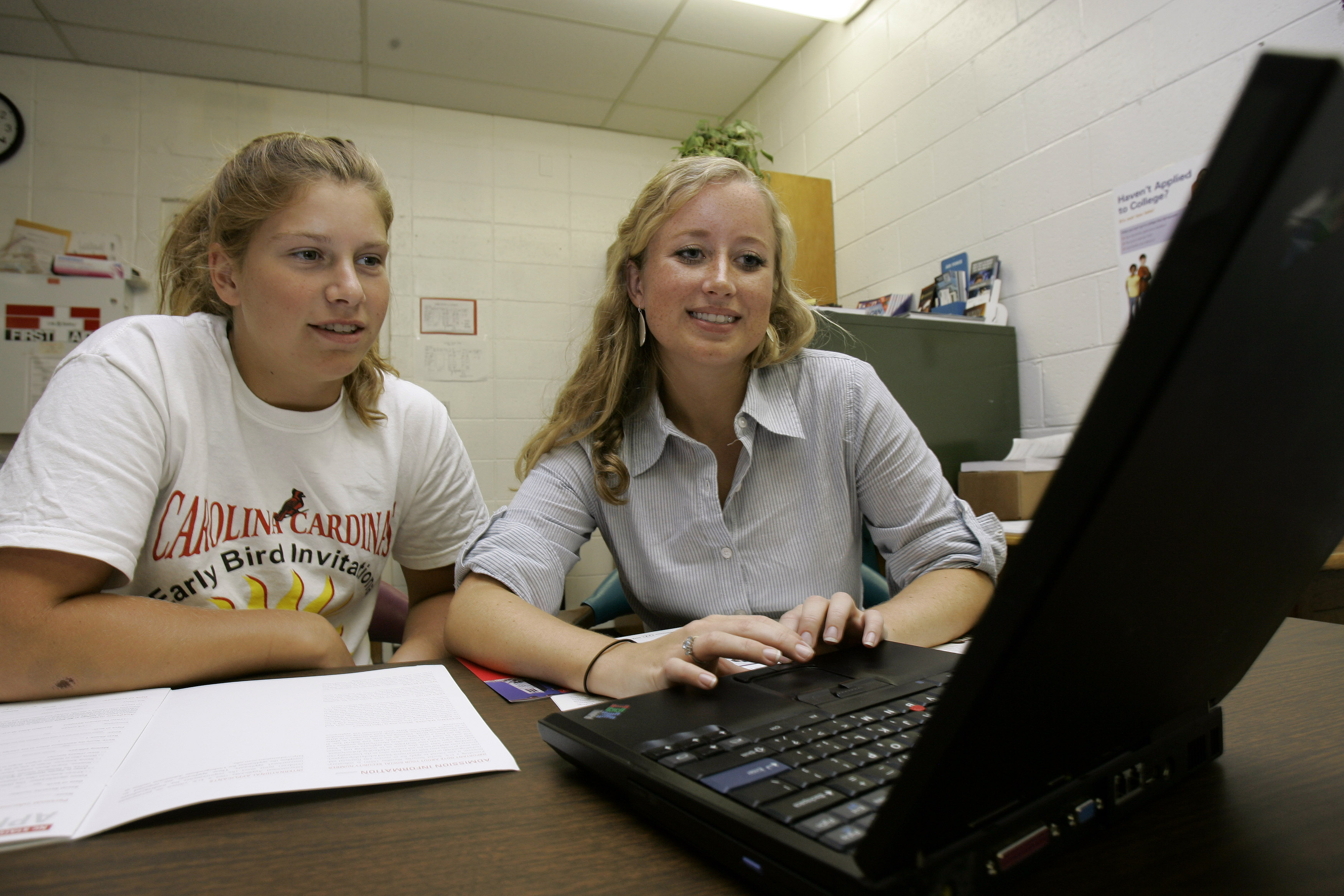 Most teenagers in Erica Elder's hometown of Bassett, Virginia, don't think they're college material. The county's median household income is $33,600—about half the Virginia average—and only 11.3 percent of residents have a bachelor's degree or higher.
Elder graduated from the University of Virginia this year, becoming the first in her family to obtain a B.A. She probably wouldn't have applied to UVa, a highly ranked flagship school, without the encouragement of her college adviser in high school. Despite less-than-stellar SAT scores, "he never told me I couldn't go to college," Elder says. "He just gave me hope." This fall, she's heading back to Bassett High to serve, in her mentor's shoes, as a member of the National College Advising Corps.
The college-applications process can be overwhelming for any high school student. But for low-income minority students like Elder with no graduates in their families to guide them, it is often paralyzing. Many such students choose two-year schools by default, or they decide not to go to college at all. The National College Advising Corps gives underserved students better information about their options by placing recent college graduates in high schools across the country to serve as college advisers.
"The people who really got pummeled by this recession were people with a high-school degree or less," says Nicole Farmer Hurd, founder and executive director of NCAC. Higher education continues to be a powerful weapon against inequality: Low-income students who earn a four-year degree, reports the Pew Economic Mobility Project, become nearly four times more likely to catapult into the top fifth of earners. Yet low-income students are 30 percent less likely to go directly to college than their wealthier peers, according to the National Center for Education Statistics.
In the early 2000s, when Hurd was dean for undergraduate research and fellowships at UVa, she had an epiphany. "We're sending all these graduates off to Los Angeles to teach or to Ecuador to do water purification," she says. "If we can send them to L.A. and to Ecuador, surely we can keep them here in Virginia to help kids to go to college." A $623,000 grant from the Jack Kent Cooke Foundation in 2004 allowed Hurd to recruit and train 14 college advisers, all UVa seniors about to graduate, and to install them in targeted high schools across the commonwealth in the fall of 2005.
Today, NCAC works with 19 partner institutions and fields 334 advisers in 14 states, reaching more than 116,000 teenagers. Sixty percent of NCAC advisers are first-generation graduates, minorities, or from low-income families. They're all younger than 25. Advisers are recruited, trained, and deployed by partner institutions; four years after they partner with NCAC, institutions bear 60 percent of the cost of maintaining their program. NCAC, a nonprofit funded by foundations and grants, provides the remaining 40 percent of necessary funding.
During training, advisers learn about the admissions process from financial-aid and admissions officers on their partner campus who coach them through the steps. They also tour other colleges and universities in the area, allowing advisers to make connections with admissions staff. As well as a stipend, advisers receive a $5,500 grant each year toward paying off their student loans or for graduate school.