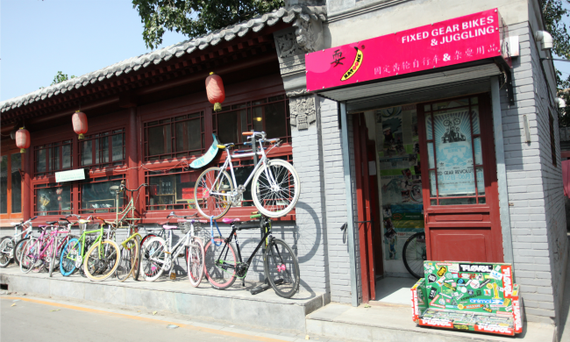 Dozens of upscale bars, restaurants and boutiques line Wudaoying Hutong in Beijing's Dongcheng neighborhood. Sometimes billed as the capital's Brooklyn, the narrow alleyway features a nightly mix of hip young locals and foreign expatriates. With its hot pink sign featuring a yellow banana logo, Natooke matched the neighborhood's colorful aesthetic. But its business revolves around a product that, as recently as a few years ago, would have been unthinkable in China: fixed-gear bicycles. 
A neatly organized, wood-floored space, Natooke's walls are mounted with racks of bike parts—everything from frames and wheels to hubs and handlebar grips—in a range of bold colors. Buyers, guided by the expertise of Ines Brunn, the shop's founder, and her staff of young hipsters, select each element to create a custom-built, fixed-gear bike.
Shops like these are common in the big cities of North America and Europe, but Natooke was the first such business to arrive in China. Today, it's the epicenter of the youth bike scene in Beijing, and its impact has been felt across the country.
***
Brunn, a physicist by training, first visited Beijing in 2001 and relocated full-time in 2004 for a job with a German telecommunications firm. A long-time cyclist and trick-bike performer, Brunn appreciated the flat, tree-lined streets that snaked around the city. She rode everywhere, favoring a fixed-gear bike she'd brought from home, while most of her fellow riders were perched atop old-fashioned Flying Pigeon commuter bikes or low-end mountain bikes.
A heavy, single-speed bike with a basket attached to the front, Flying Pigeons are an iconic image in China. In the 1970s, a propaganda slogan defined wealth as a "Flying Pigeon in every household," and through the 1990s the bikes were so common that they became the most popular vehicle of any kind, ever, in the world.
But while other countries developed world-class bicycle infrastructure over the last decade, China's bike culture stalled. Cars, first made available to private buyers in 1994, became the de rigeur possession for the country's growing middle class, and in 2009 China became the largest auto market in the world. As more cars hit the roads, Brunn noticed that bicycle commuters were disappearing, and that the city had begun to remove bike lanes.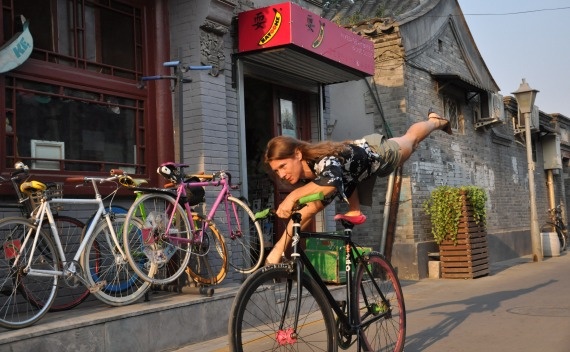 "I saw bikes really fading from the public scene," Brunn told me. Even the Flying Pigeon encountered problems: The company slashed its manufacturing workforce from 7,000 to 300 in the early 2000s. Cycling had become the mode of transportation for old people, or those who had no other options.  "The bicycle stood for poverty," Brunn said.
But she saw potential: cycling had become a trendy, healthy hobby elsewhere in the world, and offered a solution to Beijing's pollution problem. To encourage Beijingers to ride bikes, changing the image was critical, and the perfect tool for doing so, she decided, was fixies.
"No one cared about health," she said, "Coolness was what mattered."
***
Coolness is not something Brunn lacks. At a recent dinner in San Francisco, she performed a series of tricks on a fixed-gear bicycle, riding the bike around in a tight circle while upside-down, backwards, on one wheel, sitting on the handlebars, and standing on the seat. Stunts like these have earned her an international reputation, and she travels regularly to perform in exhibitions and events. So if anyone in China could separate cycling from its stodgy image, it was Brunn.
At first, she tried to recruit other fixie riders to a Beijing Fixed Gear Bike Group. She organized rides and meet-ups and passed out flyers and business cards to everyone she met. But the numbers just weren't there. "No one was making or selling fixies in China at the time,'" Brunn recalls. Finally, someone told her: "If you want to build a community, you will just have to open a shop."