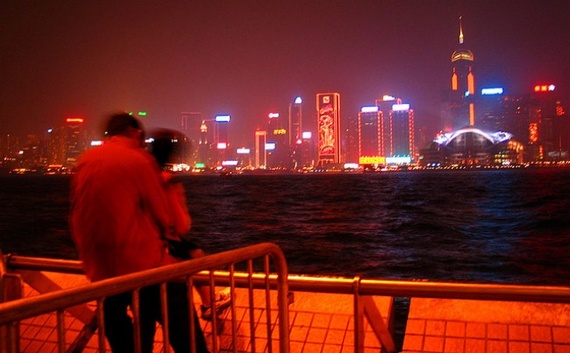 China's just-loosened one-child policy has warped the country's gender ratio over the past 34 years to the extent that by 2020 there may be almost 24 million men unable to find a partner. But in the special administrative region of Hong Kong, a jurisdiction not subject to the mainland's laws, the landscape is startlingly different. The territory's 2011 census revealed that there were 209,000 women living alone, a figure that is rapidly rising. It's believed that one in five Hong Kong women born today will remain single for the rest of their lives.
Phoebe, 24 and a newly qualified lawyer, is already feeling pressure to find a life partner in the next couple of years.
"Most of my single girl friends are all panicking about finding their other half now because men have a tendency to favor younger girls," she explains. "Asian men seem to be attracted to girls around 25 rather than girls over 30, so if we don't find the right man soon, our chances of meeting a future partner will get slimmer."
It's easy to draw parallels between women like Phoebe and the surplus of educated, single women in their late 20s and 30s in mainland China, controversially branded shengnü or "leftover women" by state-run media. But in Hong Kong, the problem is less a question of age but a shortage of men: The sex ratio currently stands at 876 men for every 1,000 women, a gap predicted to widen to 763:1000 by 2036. 
The imbalance has already had repercussions for Hong Kong's society. "With so many more women than men in Hong Kong, older men can easily find younger women as their other halves," says 26-year-old Janice, a public relations adviser. "It means that men can focus on their career while they're young, and then find their other half at around 30 while women have to worry about focusing on their career and finding love simultaneously."
50 years ago, Hong Kong's gender ratio was relatively level, but in the past decade, a steady flow of female migrants from the Philippines and Indonesia, seeking work as domestic helpers, have arrived in the territory, and there are now 300,000 of these women registered in Hong Kong. But even if you remove migrant women from the data, population demographics remain significantly lopsided in favor of women.
So what accounts for the phenomenon? One explanation is the increasing number of cross-border marriages between Hong Kong men and mainland women, which, in 2012, accounted for more than 30 percent of all registered marriages in the city. But with all the single women available in Hong Kong, why are men looking overseas in search of romance?
"There are several reasons," says Dr. Suzanne Choi, a researcher in gender studies at the Chinese University of Hong Kong. "Hong Kong women are highly qualified and independent, but the marriage norm of men marrying down and women marrying up has remained largely intact. So some men may be unable to find a local wife due to their comparative socioeconomic disadvantages. But some may also want to find a wife with lower qualifications and earning power anyway, so they can conform to social expectations. The increase in regional economic integration has resulted in a large number of Hong Kong men working in South China so they actually have far more opportunities to meet mainland women than ever before."
Despite the shortage of eligible partners, women in Hong Kong are renowned for being selective, but their reasons for seeking men with higher earning power are also linked to the growing financial pressure on couples.
"I think most women just want to find men who can support them and their future families so they're all looking for men who are capable of buying houses and have a reasonable income," Janice says. "This is because Hong Kong has housing issues. Prices are continuously rising due to inflation, but salaries are not increasing at the same rate, so everyone's working extra hard to earn money and women will look for men with higher earning capabilities. But [these men] may be difficult to find."