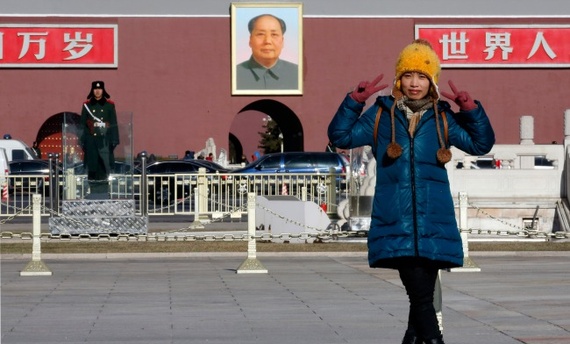 2014 has already arrived in the People's Republic of China and, while the occasion is celebrated far less there than here in the United States, China's 1.3 billion people will enjoy a public holiday on January 1st. Following a busy, intriguing 2013, the break is welcome: The first year of Xi Jinping's stewardship was an eventful one in the country, and as 2014 begins China faces a number of issues that, in the aggregate, pose a threat to the country's stability. And while the past two weeks have been relatively calm, a glance at recent headlines reveals a lot about the challenges China faces.
***
The most important China story of the moment isn't happening in China at all: Japan Prime Minister Shinzo Abe's decision to visit the Yasukuni Shrine, where many Japanese war dead are interred, has further destabilized an already tense region. James Fallows has written extensively (and cogently) about this topic over the last week, and anyone who wants to understand why Yasukuni is so controversial ought to start with these posts. While Abe's visit has more to do with the logic of internal Japanese politics than with China, the upshot is this: there are no signs that this brinksmanship in East Asia is going to stop.
Yasukuni wasn't the only important headline affecting China this week. Here were the others:
On Defensive, JP Morgan Hired China's Elite
The New York Times's Dealbook section this year has explored how major U.S. financial institutions, like JP Morgan, sought to hire the children of important Chinese officials and businessmen in order to facilitate their business operations in the country. These "legacy" hires are technically not legal under the Foreign Corrupt Practices Act, but major banks are plowing forward anyway as securing deals with Chinese companies often relies on making key personal connections.
This story—ostensibly about possibly nefarious behavior at an American bank—touches upon two sensitive issues in China: corruption and income inequality. Politics and big business enjoy a cozy relationship in the country, and a large number of Communist Party elite have leveraged their government connections to secure high-income jobs with big, multinational companies. President Xi Jinping has cracked down on the more ostentatious symbols of official privilege, such as lavish banquet dinners, but the profitability of Communist Party elite is woven into the very fabric of how China works and cannot be undone without major structural changes.
Pollution Rising, Chinese Fear for Soil and Food
When we think of Chinese pollution, the image of Beijing's smoggy skies, which grew worse in 2013, prevail. But air pollution is only one aspect of China's environmental crisis, as food safety continues to be an enormous problem in the country, where stories of gutter oil keep Chinese consumers up at night.
Why is food security such a problem? Corruption is one problem, but the central logic of the Chinese political economy—that politicians throughout the system have an incentive to boost GDP at all costs—means the pressure to focus on industrial development is enormous, and environmental safeguards have failed to keep up.