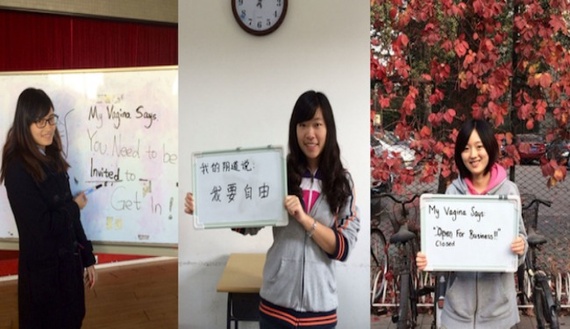 "When I first heard about The Vagina Monologues, I was shocked. I thought, how could someone give a play a name like that?" says Xiao Hang. That was five years ago, when Xiao Hang was, by her own admission, "mainstream and quite conservative." But after volunteering for an NGO in her sophomore year at college, she began to see society through a different lens. She no longer thinks, as she once did, that "it isn't elegant to talk about your vagina in public." In fact, she thinks it's vital to. 
Today Xiao Hang is one of the organizers behind Bcome, the Beijing-based feminist group which has put on around a dozen performances of The Monologues this year to mark the ten-year anniversary of its first showing in China. Performed in over 150 countries worldwide in some 50 different languages, Eve Ensler's play was first shown in the Mainland at Guangzhou's Sun Yatsen University in 2003. 
In their offices just outside Beijing's third ring road, Xiao Hang and Bcome's other volunteers are preparing leaflets to send out for the International Day for the Elimination of Violence against Women. The leaflets have titles such as "20 Misconceptions about Sexual Violence," "The ABCs of Feminism," and "Resist Verbal Abuse." 
"We've already done lots of online and print promotions as well as panel discussions. The Vagina Monologues is new, fresh and attention-grabbing," says Ai Ke, another organizer. "It's not just a play, it's a tool for spreading feminism, a method for public education."
To prepare the script, the organizers translated from the English version, took parts from past Mandarin versions, and created original scenes through a series of workshops they ran last year. At the beginning of each workshop, they voted on which topic they wanted to discuss ("We're very democratic," laughs Xiao Hang), noted down their own experiences, and gave key words to the scriptwriters. "We wanted to localize the play as much as possible, so we added issues such as the obsession and anxiety over virginity," explains Ai Ke.
With their script complete, Bcome's committee organized shows at Beijing's LGBT center, at culture cafes, and at an art space where they performed to an audience of 400. They also put on the play for a community of migrant sex workers ("This helped us better understand them and write a scene about their lives") and organized college campus productions—including a now notorious rendition by female students at Beijing Foreign Studies University (BFSU).
The BFSU students caused an internet storm earlier this month when, in an effort to promote their version of the Monologues, they posted pictures of themselves holding up messages from their vaginas to the popular social network RenRen. Written in English, Chinese and Korean, the messages ranged from "My vagina says: I want freedom" and "My vagina says: I want respect" to "My vagina says: You need to be invited to get in." The images were soon reposted on Sina Weibo and picked up by local media outlets, who focused on the girl's "confessions."  A video of the images received over 2 million views on Sina.
The wave of online misogyny that followed was nasty. Commenters focused on the women's looks ("Seeing their faces, I've lost all interests in their vaginas" said one @Taoist_Mua), others expressed shock that students at one of the country's top universities could have written such things ("How could BFSU admit such vulgar girls?" @冬天的亭子) or simply resorted to pure name-calling ("These ignorant grandstanding tarts" @保护地球绿色家园). One user, @shendeon, even exclaimed, "If my daughter did this, I'd slap her across the face."
***
These reactions only seemed to validate the need for performances of The Vagina Monologues in China. The critics "have this image that female university students must be pure," says Xiao Hang. "They were terrified because women in China never talk about sex in public."