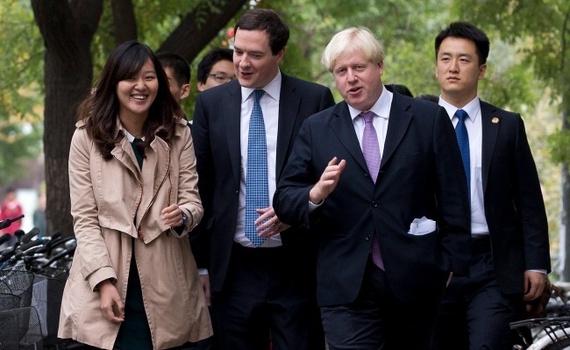 Last year, London Mayor Boris Johnson heralded the just-completed London 2012 Summer Olympic Games as a triumph for the city and a magnet for tourism and foreign investment. But this open invitation, apparently, didn't extend to China. Two months prior to the Games, the British Ambassador in Beijing, Sebastian Wood, labeled the U.K. "a fortress" to potential Chinese visitors.
This year, the UN World Tourism organization marked Chinese tourists as the single biggest source of income in global tourism: As a group, they spent $102 billion overseas in 2012, more than 30 percent more than visitors from other countries. But while a single Schengen visa enables tourists to gain entry into most countries in the EU, the U.K. requires a separate visa that costs almost twice as much. This, Wood argued, deterred wealthy Chinese tourists from visiting the country, and caused the U.K. to lose significant revenue to European neighbors such as France and Germany.
Last month, in an effort to undo the image of this "British fortress" and smooth ruffled feelings over Prime Minister David Cameron's 2012 meeting with the Dalai Lama, London sent a small delegation on a five-day mission to China. Among the delegates were London Mayor Boris Johnson and the U.K. Chancellor of the Exchequer George Osborne, whose visit began in Beijing on October 14. In clear contrast to previous high-level trade visits to China, both men steered clear of political controversy, as Mayor Johnson sidestepped human rights questions while Osborne confirmed that "the prime minister is not planning to meet the Dalai Lama." Instead, the visit focused exclusively on trade, with both sides expressing hope that the prime minister may visit China later this year.
A key component of the British visit was easing visa regulations for Chinese visitors. At Peking University, Osborne announced the launch of a 24-hour "super priority" service that would fast-track visas for Chinese business leaders traveling to the U.K. as well as a separate process that would allow certain Chinese travel agents to apply for U.K. visas using the same application as for the Schengen.
Johnson also mentioned the huge income derived from Britain's 130,000-strong Chinese student population, noting that "London has more Chinese students than any other city on earth, outside China." Reminding the audience that Harry Potter's girlfriend was also a Chinese student, he added: "Let me make this clear to you and to the whole of China: There is no limit to the number of Chinese who can study in Britain." The statement, given recent events, was striking: Last year the U.K.  announced a policy to reduce annual net immigration from outside the EU, shortening the length of stay for overseas students. And while previous visas offered students the right to seek employment in the U.K. for two years, now only those who graduate with job offers can stay. Why, then, is the U.K. suddenly reversing course with China?
***
China has made significant investments in British industry and infrastructure. These include shares in London's water supply as well as a project to expand Heathrow Airport, the latter worth £800 million ($1.28 billion) and expected to create 16,000 jobs. To further promote trade, the two countries struck a deal allowing direct trading between their respective currencies, based on an 80 billion yuan ($12.7 billion) quota for London-based firms to invest in China. The U.K. is now the only foreign country to manage China's tightly controlled currency.
The U.K. has even eased regulations for Chinese banks to set up branches in London, relaxing rules brought in as a result of the financial crisis that required most foreign banks to set up "subsidiaries" that operate under tighter controls of the Prudential Regulatory Authority (PRA). Such "counterproductive" measures, as one journalist called them in the South China Morning Post, reportedly pushed several Chinese banks to switch operations to Luxembourg. While many in the banking industry saw the news as undermining the PRA's independence, others, such as TheCityUK, an independent membership body promoting financial services, "strongly welcomed" the announcements, which it saw as "potentially increasing funding for U.K. infrastructure and investment in other sectors."