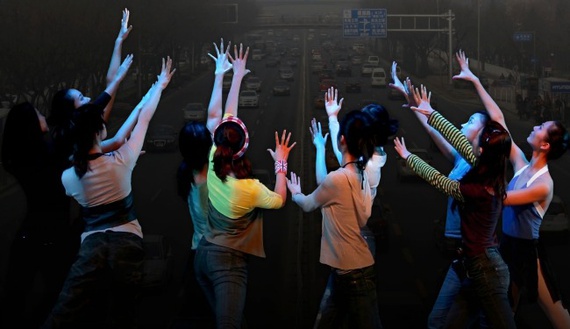 When 28-year-old Hou Xiao, a graduate of Beijing's Central Academy of Drama, compares his generation of Chinese actors with that of his 54-year-old father, also a film actor, the contrast is pronounced. His father lived in an era when an actor wasn't that different from a school teacher or police officer: you were a state employee assigned to a work unit, paid a paltry salary for acting mostly in propaganda films, and, barring any scandals, guaranteed a job for life.
"For actors in my parents' generation, making films was a national duty," says Hou. "This was the work the country gave them, and everyone was working for the good of the nation."
Hou and his peers, on the other hand, are China's first generation to ever grow up with the concept of movie stars. They are China's infamous "post-80s generation"—children born after the start of Deng Xiaoping's economic reforms in 1978, and subsequently exposed to commercialization, Coca-Cola, and Hollywood. Says Hou:  "The thinking now is, I want to make money and get famous."
The mindset of this new crop of Chinese actors is explored to great effect in a new documentary about the staging of the Broadway musical Fame at China's most prestigious acting school, the Central Academy of Drama. The Road to Fame, which will have its New York premiere at DOC NYC on November 16th, features candid interviews with the Academy's graduating class and their anxious parents over the course of a year as the students compete for lead roles, deal with family pressures, and grapple with their insecure futures after graduation.
The film is an intimate and empathetic portrait of a specific sector of China's post-80s generation, so-called "little emperors" often derided for being materialistic, and "soft in the middle."
"In many ways they're very fragile, and they're very easily discouraged," says director Wu Hao, himself born in the 1970s. There's plenty of research to back up his statements; a study published in Science earlier this year showed that Chinese people born a year after the 1980 introduction of the one-child policy were more risk-averse, more pessimistic, and less trusting than those born a year before the policy.
On set, those attitudes can have real-life ramifications, according to film and TV producer Zheng Junshen: "Post-80s actors tend to be more self-involved, and compared to older actors they aren't as able to cooperate with the team," he says.
But these younger actors have bigger expectations for the future than their predecessors, says Wu: "They have no memories of the Cultural Revolution growing up. They don't have the baggage and the sense of insecurity of many generations before them. So they welcome the future. They're willing to recognize what they want and go and get it."
And what they want is something that wasn't even a concept when their parents were young: fame.
"I want to be a superstar," declares Chen Lei, one of Wu Hao's main characters in his documentary. "Everyone wants to be famous, because money follows fame," says another. In a previous generation, these kinds of statements would not have existed; in those days, young people strove for the collective good, not individual glory. The desire, much less the explicit declaration, for individual fame and glory is a radically new development.