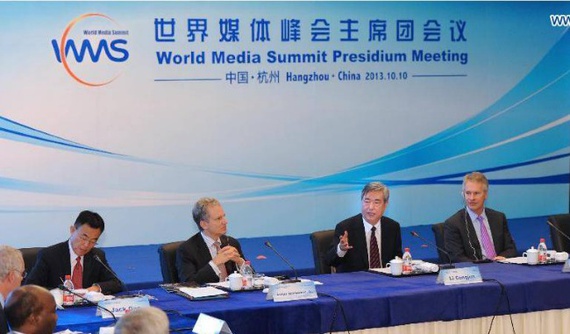 HONG KONG—On October 10, some of the most powerful figures in international media gathered in the Chinese city of Hangzhou for the second meeting of the decision-making "presidium" of the World Media Summit (WMS). The meeting was hosted by Xinhua News Agency, China's state-owned news service.
The list of attendees was impressive. American participants included Google, The Associated Press, News Corporation (which owns FOX News and The Wall Street Journal), NBC News, The New York Times Company and Turner Broadcasting System (owner of CNN). Other participants included Reuters, BBC, Al Jazeera, the South African conglomerate MIH Group, the Japanese wire service Kyodo News, Russia's ITAR-TASS News Agency and Kasturi & Sons of India. All of these companies were represented by senior management, including CEOs and presidents.
Whether they were aware of it or not, these highly influential media brands were lending credibility to an opaque organization that the Chinese government created expressly to further its global propaganda goals. Moreover, their meeting took place while China is escalating its crackdown on online speech and investigative journalism.
For these reasons, it is perhaps unsurprising that this event has received no attention in the Western press.
On the surface, the World Media Summit presidium meeting appears to be like any other meeting of bigwigs in China: VIPs drinking tea, taking notes, calling for 'win-win cooperation' and maybe enjoying a cheerful banquet at the end of the day. But to the upper echelons of China's leadership, this is a meeting with deep strategic importance.
***
"Censorship works best when it works unseen," says David Bandurski, a researcher at the University of Hong Kong's China Media Project.
"One of the best ways to legitimize censorship is to make it look voluntary. This is why China has sought in recent years to push censorship and control through what look like voluntary professional organizations, which then make self-discipline pledges, come out with resolutions mirroring official policy, that sort of thing."
Bandurski knows a thing or two about such organizations: His 2007 investigation of the Beijing Association of Online Media (BAOM) earned him a Human Rights Press Award. Bandurski showed that BAOM, a large professional organization consisting of Chinese and Western technology firms, was not an independent NGO but rather an extension of China's censorship apparatus hiding behind trusted domestic and international brands including Sina, Sohu and Nokia.
When BAOM espoused the notion of a "civilized Internet," a term originally promoted by China's former president Hu Jintao, it appeared to be the action of a concerned industry group. But actually, BAOM was headed by a Beijing official involved in information control, and it served as a vehicle for eliminating unwanted political content from Chinese websites. The World Media Summit appears to be inspired by this model.
In 2007, then-President Hu Jintao decreed that China must increase its "soft power," the ability to achieve its international goals through attraction or co-optation rather than military or economic means. The following year, as the government dealt with the crises of Tibetan riots and the Wenchuan earthquake while preparing for its Olympic coming-out party, the Chinese Communist Party's (CCP) obsession with China's image in Western media reached new heights.
"For a number of years, China's leadership has seen itself in an epic struggle with the West for public opinion. They've talked about a 'global war for public opinion,'" Bandurski says. "In 2008, just before the Beijing Olympic Games, the idea of enhancing what China called its 'discourse power' overseas became part of Hu Jintao's media policy. It was in that context that the central leadership called for a world media summit through which the CCP could better influence global media."
***
The official story of the World Media Summit's creation centers around Xinhua president Li Congjun reaching out to his Western counterparts. According to a summit backgrounder section on Xinhua's website, Li first chatted with global media leaders on the sidelines of the Beijing Olympics, and they all agreed to form the WMS in order to address the challenges posed by changes in the global media landscape.
But articles written by Li, who previously served as China's deputy propaganda minister for six years, suggest a different story. In a February 2009 piece outlining goals for Xinhua and Chinese media, Li called for new areas, channels and methods of interaction and cooperation with the outside world.
"[We] especially need to, according to central leader comrades' request, successfully hold the first meeting of the World Media Summit," he wrote, showing that the WMS was originally created at the top levels of the CCP.
There is little English-language information available online about the WMS, aside from Xinhua's special WMS section and the official WMS website, which, according to a Whois search, is registered to Xinhua. Additionally, the "brief introduction" page on the Chinese-language side of the WMS site states that the summit is an "unofficial, non-profit, high-level meeting".
In China, such organizations, if registered, require an official government sponsor—presumably Xinhua in this case. In such relationships, sponsors tend to wield substantial power over their nonprofit patrons. From the little information publicly available about the WMS, it would seem that the summit is subordinate to Xinhua, and, by extension, China's top leaders.