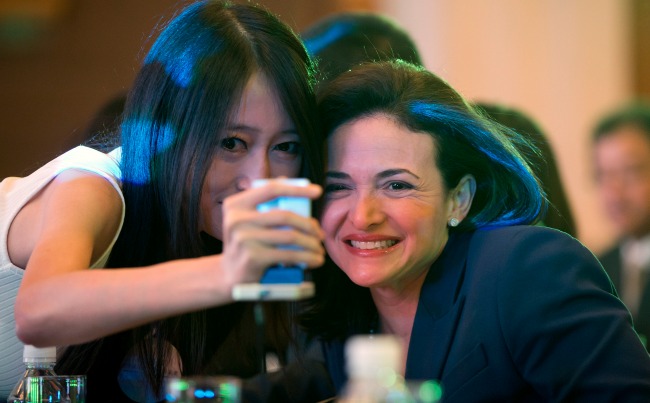 BEIJING—As she strode out in tune with the strobe lights and Star Wars-inspired theme music which had been chosen for her entrance, Facebook COO Sheryl Sandberg placed a water bottle on the podium and walked right past it towards the lip of the stage. During the ensuing 24 minutes, she spoke to the predominantly female audience of several hundred power-heel wearing professionals about the importance of "leaning in," claiming their "rightful place at the table," and marrying a man who changes diapers. 
A few minutes into the speech, the Chinese woman sitting next to me whispered: "She is elegant enough to be a first lady." I nodded in approval until, suddenly, we looked at each other and said "No, president!"
That we made this "mistake" while attending an event of such female caliber seems inexcusable. But in truth, Sandberg's bouffant and smile strikingly resemble those of Jacqueline Kennedy. It's also hardly an insult to be compared to a First Lady—though Forbes ranks Sandberg one notch above Michelle Obama on its "World's Most Powerful Women" list—but even still: It was alarming both of us associated even the most powerful of women with the role of "second fiddle."
Gender equality still has a ways to go in China. While women in the country actually have a higher representation in the People's Congress than American women do in the U.S. Congress, their influence is small and confined to a few select areas such as education and healthcare.
Similar patterns exist on college campuses. As of 2010, Chinese women earn the majority of bachelor's degrees in China, and their presence in masters, doctoral, and business school programs is steadily increasing. But as Xiang Bing, Director of the Cheung Kong Graduate School of Business (CKGSB) pointed out in his in speech prior to Sandberg's, while women account for nearly half his school's MBA alumni, they only represent 18 percent of the Executive MBA graduates. Sources associated with CKGSB even suggest that a healthy portion of the females enrolled in the program may be there primarily to find a wealthy husband.
Rigid gender roles are well-entrenched in China, a country where young girls grow up learning xue de hao bu ru yi jia de hao, a phrase translating as "it's better to marry well than to study well." Still-influential Confucian values dictate that a man should be superior to his wife in terms of salary and education, and as a result many women with college degrees find themselves unwanted in China's marriage market.
Enter Sheryl Sandberg. Even before the Facebook COO set foot in Beijing, several grassroots "Lean In" groups, inspired by her bestselling book of the same name, had sprouted up across the country. Though many of these groups are officially registered on Sandberg's platform site, LeanIn.org, their objectives are tailored to local needs. One of the first groups of this kind, a Lean In Circle comprised of 13 young women from China, Taiwan, Hong Kong, Singapore, and the U.S., lists "involving men," as one of its goals. "Women will only be able to fully 'lean in' if the men around them—their husbands, coworkers and bosses, and potential mentors—provide support," is one of the group's key written objectives.
Their initiative is especially needed in China, where a woman's professional success, no matter how exceptional, remains secondary to the importance given to her marital status. Marriage is such a dominant social force that, according to numbers from the National Bureau of Statistics, less than 2 percent of Chinese females remain unmarried by the age of 38. Whether they choose to marry or end up acquiescing to marriage pressure is a separate issue, but modern women struggle to ensure that their life partners are supporting, rather than inhibiting, their professional and personal ambitions.
"Society is less forgiving and accepting of diverse lifestyles and types of accomplishments; families place tremendous pressure on their children to achieve high incomes and stable family lives, even if these come at the expense of individual happiness," says Mariel Reed, an American woman who co-founded the Lean In Beijing group with Allison Ye, a native of China's Jiangxi Province. "There is a need in China for a more diverse, personally-tailored definition of success."
Charlotte Han, one of the principal organizers of Lean In Beijing's group activities, and part of a group who met Sandberg at a private event at Peking University, echoes Reed's sentiments. "She said we were the first international circle outside of the U.S. that she got to meet, and she had tears in her eyes," reports Han. "After meeting her, I want to lean in more decisively. For me personally, the "lean in" attitude is about pursuing what I love and want—it's motivation to proactively engage in meaningful and challenging work which will help me learn, take initiative, and be responsible for myself."