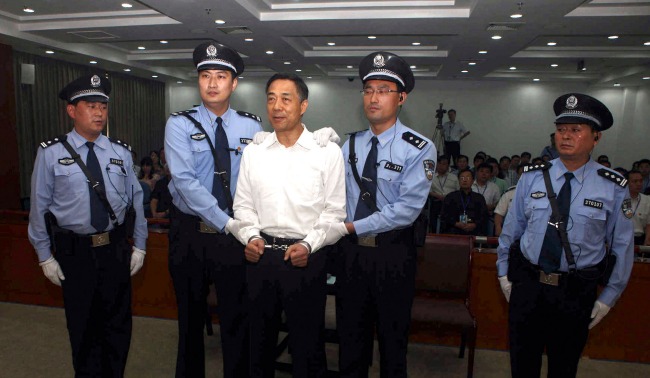 Yesterday, the Jinan Municipal Court convicted Bo Xilai of his crimes and sentenced him to life in prison, bringing an end to China's most sensational political scandal in a generation. Though Bo has appealed his suspension, this is just a formality: His life as a free man is over.
Like any major political event, it'll take awhile before we understand the full ramifications of what the Bo Xilai trial means for China. But for now, it's worth going back and remembering who Bo is, why he got into so much trouble, and what the consequences of his downfall are.
Who is Bo Xilai? Why was he important?
Bo Xilai is a Chinese politician from Communist Party royalty: His father, Bo Yibo, was an important leader during the Party's earliest years in power and is remembered today as one of China's "Eight Immortals." Like other important officials, Bo Yibo was persecuted and imprisoned during the chaos of the Cultural Revolution.
"I will wait quietly in the prison," the former Chongqing party chief wrote. "My father was jailed many times. I will follow his footsteps."
Bo Xilai first achieved fame during the 1990s when he served as the top Communist official in Dalian, a coastal city then considered an economic backwater. During his tenure in office, Bo transformed the city into one of China's safest, cleanest metropolises—a destination attractive enough to serve as host of the World Economic Forum's annual "Summer Davos" meeting. Later, following a stint as Minister of Commerce, Bo became the Party boss in Chongqing, a massive, inland city with a reputation for violence and corruption. Once he consolidated power, Bo—aided by his longtime police chief, Wang Lijun—executed a major crackdown on organized crime and encouraged a revival of Mao-era slogans and songs.
Bo's style of leadership—heavy-handed state involvement in the economy mixed with old-fashioned populism—was so successful that it emerged as a compelling governance model for China, standing in contrast to the more decentralized, market-friendly vision espoused by then-Guangdong Party chief Wang Yang. And as 2012 dawned and China prepared for a once-in-a-decade leadership transition, Bo was considered a shoo-in for one of the coveted slots on China's highest governing body: the Standing Committee of the Politburo.
So when did things go wrong for Bo? 
Bo's problems stem from the November 2011 death of Neil Heywood, a British businessman who suffered an apparent alcohol overdose in Chongqing's Lucky Holiday Hotel. Heywood's death attracted virtually no notice at the time, but in February 2012 Bo's right-hand man, Wang Lijun, fled Chongqing and attempted to defect to the United States at the U.S. Consulate in nearby Chengdu. Wang told the Americans that Bo's wife, Gu Kailai, poisoned Heywood after a business deal between the two had soured, and that when Wang confronted Bo with this information, Bo physically attacked him. 
Wang's attempted defection became an international story overnight, and the public fallout curtailed Bo's political ambitions immediately. The next month, the Party stripped Bo of his post in Chongqing and expelled him altogether that November, and Bo remained out of sight until appearing before a judge this August. Ultimately, Bo was tried for three crimes: embezzlement, abuse of power, and bribery, mostly in connection to a wealthy patron named Xu Ming who allegedly lavished Bo and his family with money and gifts. 
Though the verdict was wholly expected, Bo's trial was still something of a disappointment: the deliberations failed to adequately examine his anti-mafia campaign, a sweep that ensnared political rivals and meddlesome lawyers and, arguably, represented his true abuse of power. The crimes that ultimately brought Bo down are hardly unusual in the Communist Party, where corruption is endemic, and could have easily applied to other high-ranking officials.
Two leaders of similar rank to Bo, former Beijing leader Chen Xitong and former Shanghai boss Chen Liangyu, were sentenced to 15 and 18 years, respectively, for similar crimes, and Wang Lijun himself got only 15. Why was Bo's sentence so strict?
Bo's relatively harsh sentence is unsurprising for three reasons.
First, unlike Chen Liangyu and Chen Xitong, Bo was defiant in court, defending his record and, among other outbursts, referring to his wife as "insane." Had Bo groveled before the court and asked for forgiveness, like his wife Gu Kailai had during her murder trial, he might have gotten off with lighter punishment.