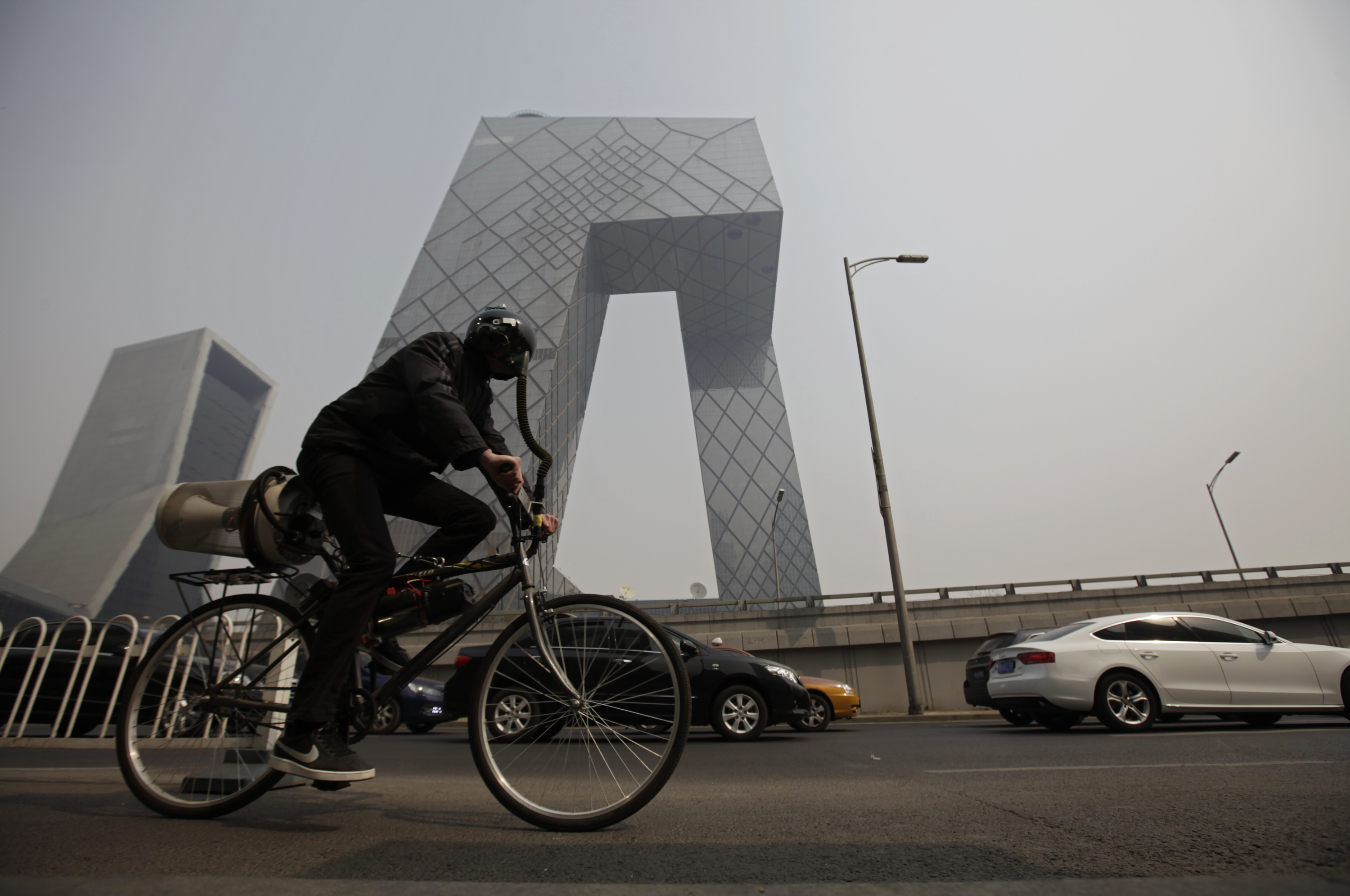 When I moved to Beijing from New York in February to study Chinese, a question began to haunt me: Could Beijing's air in 2013 be more dangerous than the toxic brew produced by the 9/11 attacks on New York City's World Trade Center, which hung over Lower Manhattan for months, sickening thousands of firefighters, recovery workers, and ordinary New York residents? 
Every morning, I would wake up in my apartment in central Beijing barely able to see the buildings across the street. Then, I would check online for postings from the U.S. Embassy in Beijing, which uses a device on its roof to measure air quality each hour of the day. Despite intensifying media coverage of Beijing's bad air—especially around the "airpocalypse" in January, when pollution levels in Beijing climbed well above the United States Environmental Protection Agency's (EPA) upper threshold for air that is hazardous even to healthy adults—I often found myself at pains to express to friends just how alarmed I was by the air outside my window. My friends in the U.S. could not seem to fathom it and my Beijing friends seemed used to it, even numb.
As a native New Yorker, in addition to being the life-changing tragedy and wake-up call that it was for every American, 9/11 was what I considered the worst air pollution disaster of my lifetime. Could that experience help put the severity of Beijing's air pollution into comparative perspective?
Since, even after returning home, the question would not leave me, I decided to look into the comparison. So I spent the summer asking the scientists and doctors who studied 9/11's environmental and public health impacts how they viewed the air in Beijing. Specifically, I asked them what I knew was a scientifically unorthodox question: Based on everything you know, is a child better off breathing the air in the middle of Beijing last winter or the air within a mile of Ground Zero in October 2001? Which air would you rather breathe?
"I would personally rather breathe the air at the World Trade Center."
Some of the experts I interviewed were reluctant to make what they said amounted to an apples-to-oranges comparison—the origins, chemical composition, and manner of exposure to the bad air in the two cases makes it difficult to draw parallels. And yet, other experts I spoke to said that if given the choice between breathing the air in Lower Manhattan around Ground Zero in the weeks after 9/11, when it was still sickening thousands, or the air in Beijing earlier this year, they would choose Ground Zero.
The pollution around Ground Zero and the EPA's failure to warn rescue and recovery workers of its risks ultimately resulted in Congress' appropriating $4.3 billion in 2010 to cover the cost for ongoing health monitoring and treatment of thousands of patients and compensating approximately 10,000 workers for economic losses already sustained from illnesses they suffered in breathing the toxic air.
How bad was the air at Ground Zero in the weeks following the attacks? According to New York City's report "Addressing the Health Impacts of 9-11," the attacks on the World Trade Center resulted in "massive combustions of jet fuel and toxic plumes of smoke," and recovery efforts resuspended particulates including asbestos, metals, glass and volatile organic compounds, among other hazardous materials. The air sickened not only firemen and recovery workers who worked on the site of the collapsed towers, but also students at nearby schools and residents of Lower Manhattan who suffered a host of ailments including headaches, asthma, nausea, and breathing problems.
In the photograph at left, Chinese commuters wear face masks as they pass by the CCTV building during heavy air pollution in Beijing on January 30, 2013. At right, a view of the wreckage of the World Trade Center seen through a broken office window, Sept 25, 2001, two weeks after the terrorist attacks that brought down the towers.
In Beijing, where pollution from burning coal and diesel emissions is severe, the machine on the U.S. Embassy's roof monitors "PM2.5"—the airborne concentration of particles 2.5 microns in diameter (1/30 the width of a human hair) or finer, whose size allows them to travel deep into human lungs (and even into the bloodstream) where they can cause a range of serious health problems, including cancer and cardiovascular disease. While many of the health problems New Yorkers and rescovery workers suffered after 9/11 were due to coarser particles—blasted shards of glass, pulverized cement—or to gasses, scientists around Ground Zero also monitored PM2.5, which was an important component of the toxic plume that swept back and forth over Lower Manhattan in the weeks after 9/11. Looking for a point of comparison, I compiled the U.S. Embassy's readings in Beijing for the months of January through March and showed them to the 9/11 experts I interviewed.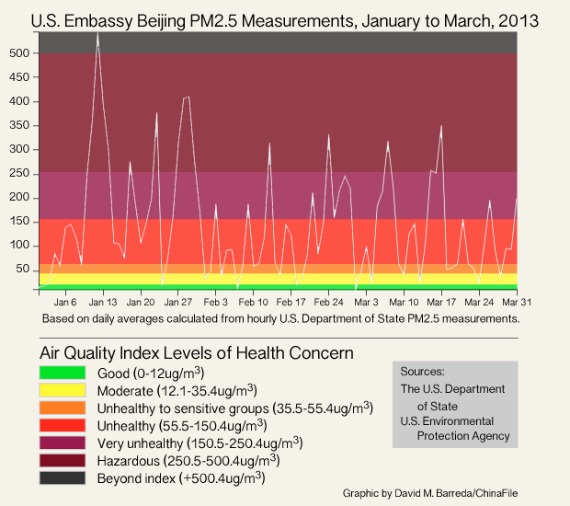 "I would personally rather breathe the air at the World Trade Center," said Thomas A. Cahill, Professor Emeritus of Physics and Atmospheric Science at the University of California, Davis, after reviewing the Beijing data I had tabulated. Cahill began monitoring PM2.5 levels a few blocks from Ground Zero starting in October 2001. He also conducted research on air pollution in Beijing in April of 2001. "It was bad then," he told me. "It's worse now."