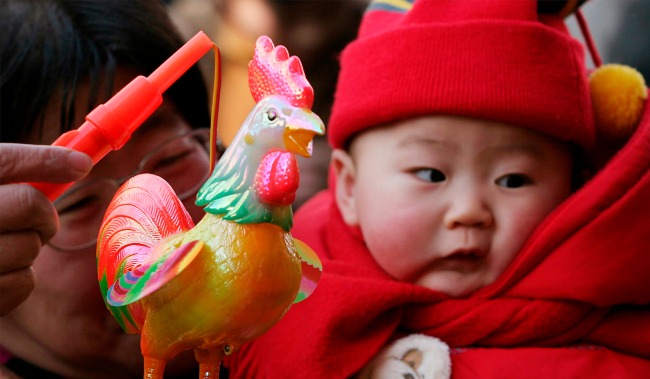 HONG KONG—68-year-old Ida Lang wakes up every morning at six. Like most retirees, she loves the calm of the morning, which she has all to herself. But unlike other retirees, Ida's me-time lasts for exactly one hour. At seven, she goes to her younger son's house, where for the next eight hours, Ida feeds, plays with, changes and talks to her son's newborn daughter. Then at three, she's off to her other shift, this time at her older son's house. There, she supervises homework, teaches, plays make-believe games and reads to her eight-year-old granddaughter and four-year-old grandson until well past nine, when their parents get home.
"I don't like to launch directly into homework when my grandkids get home. I like to start off with a hug," Ida says with a laugh.
To watch the soft-spoken widow talk about her "job" is deeply moving. She beams when she recalls the day Rachel, her first granddaughter, was born—clearly, one of the happiest of her life.
"She was so small, so cute," Ida says.
Under Ida's care, this small, cute baby has grown into an accomplished cello player, pianist, and girl scout. She now attends one of Hong Kong's top girls schools, Diocesan Girls' School, and is fully fluent in English, Cantonese, and Mandarin. Rachel's parents—Ida's son and daughter-in-law—have successful careers. Winston is in corporate development at a multinational corporation, while Delia is a successful director at a top investment bank.
"My role staying home with the kids allows for my family's success," Ida explains proudly. To her, the decision to provide childcare for her grandchildren not difficult.
"Just look at how much money she can make!," she exclaims, referring to her daughter-in-law.
Delia, a graduate of Rice University and Hastings School of Law, works 15 hours a day, which is normal in the investment banking industry. Each weekday, she's out the door at seven and doesn't get home until ten in the evening, when her kids are already in bed. Her husband's schedule is better, but he travels frequently: Sometimes, he goes to Shanghai for nine months at a time.
"I hear all the buzz about Lean In," Delia says, referring to the best-selling book whose author Sheryl Sandberg recently traveled to China on a promotional tour. "I would love to be able to march into my employer's office and demand to go home earlier and see my kids. But I also know that if I did that, my career will suffer. Sandberg's advice [that women can advance in their careers simply by being more assertive professionally] is not realistic in today's economy and in my industry."
Ida's decision to spend her golden years shuffling Delia's kids to and from after-school activities and the doctor's office is in stark contrast to Delia's own mother, who prefers to be a hands-off grandma. Delia's mother, who is also Chinese, moved from Hong Kong to Los Angeles in the 1990s and now only comes back to visit once a year.
When I ask Delia why her mother doesn't want to trade her carefree retirement years for full-time babysitting duties, she sighs and says, "she's become very Americanized."
***
Delia's mother has adopted a mentality shared by millions of American retirees, who in recent generations have come to greatly value their independence. Today, U.S. parenting message boards, like Urban Baby, are full of stories of uninvolved grandparents, and little wonder: Studies find that American grandparents who live with children are significantly less happy. But Ida, on the other hand, says that being actively involved in her grandchildren's lives is one of the best decisions she's ever made.
"These grandparents need to consider more than just themselves," says Ida, "My son and his wife are successful. This is a good thing. As a grandmother, it is my duty to support that. That's why I am here every day. I believe children should be with family. Only family can pass down culture and tradition. Only family makes the kids feel warm in their hearts."
What about on the bad days, when the kids are screaming, throwing tantrums and crying? Has she ever thought about giving up?
"Never," says Ida. "Even on the hardest of days, I just tell myself 'you must be patient.' I understand the American way. I believe the Asian way is better."
This "Asian" way is helping millions of other Chinese women like Delia make huge strides in the workforce. In China, 51 percent of senior management positions are held by women. Half of the world's female self-made billionaires are from China. Women in the People's Republic of China contribute half of the household income.
By contrast, in the United States, women hold just 20 percent of senior management positions, accounting for just four percent of Fortune 500 and Fortune 1000 CEOs. And even though women are more likely to be college-educated than men, they are twice as likely to work part-time.
54 percent of working moms cite balancing work and family as their biggest challenge. Many of the five million American stay-at-home moms want to work, but the crippling cost of childcare, more expensive than a year of public university in 35 states and the District of Columbia, has them feeling like they can't afford to. It isn't just a problem for low-income mothers, either: According to Professor Joni Hersch of Vanderbilt University, mothers who are graduates of top institutions are disproportionally opting out.