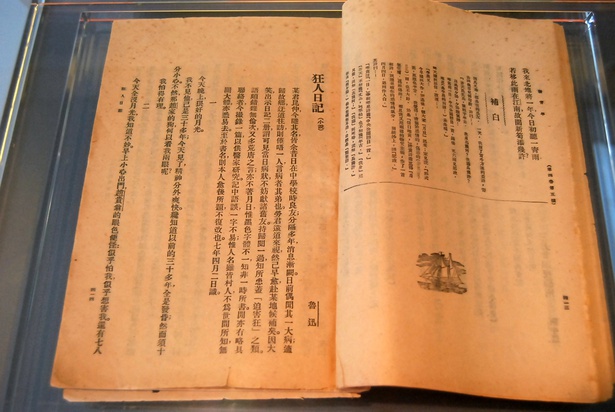 Recent changes to China's teaching curriculum have made the news: An essay by the father of modern Chinese literature,  Lu Xun (1881 – 1936), has gone missing from new editions of middle school textbooks. Citing the need for more "age-appropriate" material, the People's Education Press has  removed Lu Xun's essay "The Kite" from its most recent edition, replacing it with an essay entitled "Autumn Nostalgia" by Shi Tiesheng.

In recent years, Lu Xun's writings have been disappearing gradually from official language and literature textbooks, sparking some concern among parents of school-aged children. In surveys conducted by Sina News, a popular news website, and Sina Weibo, an overwhelming majority of respondents expressed displeasure with the changes, noting that "Lu Xun's works are classics, and represent the 'spirit of the Chinese people."

Why, given both Lu Xun's popularity and his accepted status as one of China's top modern authors, would his works be disappearing from the educational curriculum? An article analyzing the changes published by Xinhua News Agency, China's state-run media, noted that, "Middle school students should not be reading anything too deep." Zhao Yu, an author quoted in the article, voiced his agreement with the decision, stating that, "We shouldn't make students undertake reflection and critical thinking too soon; instead, we should let them gradually accumulate knowledge."

The most upvoted comment on the article as published by Sina, one of China's top news portals, had a different take: "Lu Xun's articles have been pulled again; this shows that some people have begun to fear that ordinary people are waking up and gaining awareness. [Expletive]! The sun hasn't even risen, and some people are already afraid of the light."

Online, a minority of people supported the changes, citing the negativity of Lu Xun's writing—his reflections often bordered on despair, and presented the darker side of society—while others argued that his realism offered a necessary glimpse of the world as it actually was. As one Weibo user wrote, citing a catchphrase promoted by the government in recent months, "It can't all be 'positive energy.'"
Lu Xun's tone and style aside, the article removed this year, "The Kite," has particular significance. According to Dr. Paul B. Foster in his book Ah Q Archaeology, the essay, about an incident in which Lu Xun broke his brother's kite as a child, "tells a personal story of the negative psychological consequences of forgetting … enlightenment entails the development of a historical memory, and … it also demands the unwillingness to lapse back into forgetfulness, even if the consequence requires living with the truth of his evil deed."
Historical memory has become a touchy subject lately, as attempts by Chinese authorities to promote unity and nationalism have achieved only limited success. Moves by government bodies to promote ideological conformity, control journalists' political beliefs, and instill patriotism early have shown that the Chinese Dream promoted by the nation's new leaders tolerates little dissent.
Lu Xun's place in such a narrative is an uneasy one. His essays were held up by no less than Mao Zedong, who declared the late writer "China's modern saint" and situated his works prominently in the state-sanctioned literary canon. Yet Lu Xun, who died over a decade before the founding of the People's Republic of China, was a lifelong skeptic and cynic, especially about politics. Unfailingly critical of attempts to co-opt movements and ideas, the writer spared no one and nothing from his sarcasm and mockery. Even now, many of his works have relevance as critiques of social and political phenomena that have reemerged.
Much like Chinese authorities today, Lu Xun himself was conflicted about the effect his voice might have on future generations. Reflecting on whether or not to speak out, he posed an analogy:
Imagine an iron house without windows, absolutely indestructible, with many people fast asleep inside who will soon die of suffocation. But you know since they will die in their sleep, they will not feel the pain of death. Now if you cry aloud to wake a few of the lighter sleepers, making those unfortunate few suffer the agony of irrevocable death, do you think you are doing them a good turn?
Perhaps in the spirit of an early Lu Xun, Sina Weibo user @lvyiyao voiced a sarcastic support for the removal of his works from children's textbooks: "It's actually better for the children. Ignorant swine are far happier than humans who know what's going on."
---
This post first appeared at Tea Leaf Nation, an Atlantic partner site.