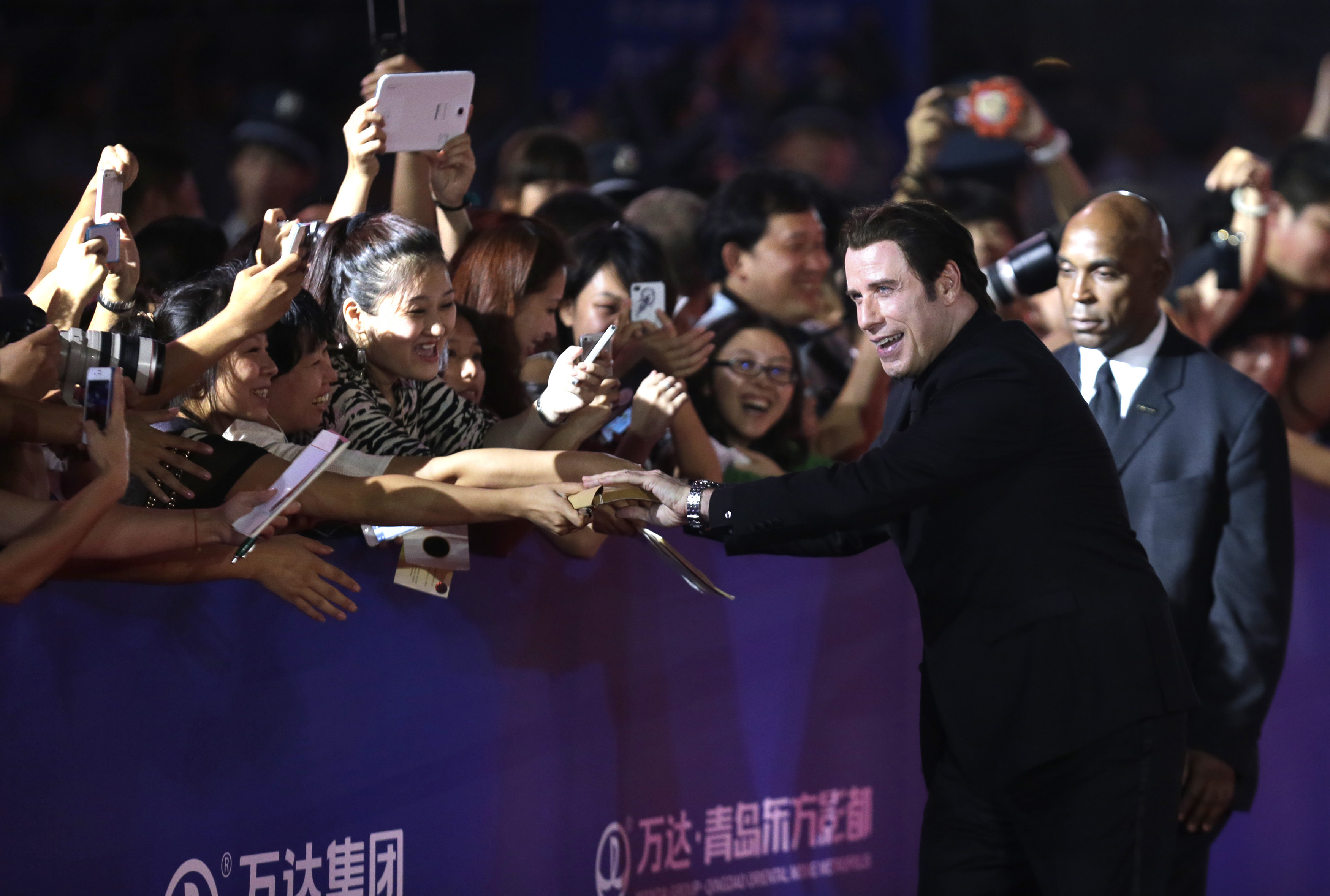 Wang Jianlin, who personally doesn't know much about film, made a splash when he purchased America's No. 2 movie theater chain AMC at a price many thought far too high for what he was getting.  A number of knowledgeable people felt that the money could have been put to better use by investing in the fast-growing China market rather than the flat North American market.
However, it was clear then, as it is now, that his strategy was primarily about "branding," announcing that Wanda and Wang were major players that had the finances to back very large ambitions. Indeed, he succeeded in his aims when he was interviewed—often complete with picture—in many of the major media publications in the U.S., commanding attention from Hollywood's leading players.
His latest foray moves this a large step forward by demonstrating that he can summon Hollywood A-listers and major studio senior executives to Qingdao to participate in this unveiling. He has a major advantage in that his ambitions are highly congruent with the Chinese government's key priority to expand the country's soft power and show that the Chinese dream can compete with the American dream, which has always been epitomized by Hollywood.
"We were shown like monkeys. So no, there is no indication that anybody got a real sense of Wang, except that he is a very rich man who could afford to pay top talents to come."
Wanda will next send a team to Hollywood to negotiate the terms of this new relationship, but the devil is always in the details. One has to examine what the three major players want out of this relationship: Hollywood, Wanda, and the Chinese government. Hollywood clearly wants greater access to the China market for their films, and if this relationship allows them to make films that can succeed internationally while, ideally, not being subject to China's import cap of 34 revenue-sharing films per year, this deal might well work for them. Wanda wants to learn from Hollywood's expertise in storytelling and marketing and distributing films internationally. They are going to be concurrently making blockbuster domestic films so they are unlikely to be enamored of Hollywood competition domestically; they want international market success. That's one possible contradiction in the relationship.
Another would be the aspirations of the Chinese government. One of the major reasons co-productions have declined drastically over the last two years is China's insistence that they be real co-productions, with positive Chinese stories and Chinese casts, not co-productions in name only as was the case previously, when "Chinese" films such as "Mummy 3" were big hits outside China and counted as part of China's bottom line despite their lack of sufficient Chinese ingredients. Will films produced under this new arrangement be real "Chinese" films or merely Hollywood films, filmed in China as was Tarantino's "Kill Bill" films (which were not distributed in China)? Hollywood wants "high concept" films that can be appreciated in all markets, including the Chinese domestic market; China wants non-controversial films that show the country in a positive light to counter what they see as demonization by Western media. In the end the three major players may be sleeping in the same bed while working from different screenplays.
---
Eyewitnesses to the spectacle on Sunday announcing the $8.2 billion Qingdao Oriental Movie Metropolis along China's northeast coast—a gathering including Hollywood A-list celebrities Leonardo DiCaprio, John Travolta, Harvey Weinstein, Nicole Kidman and others—said that Dalian Wanda Group Chairman and CEO Wang Jianlin spent a lot of money to impress the locals but wasted little time engaging the supposed guests of honor.
"There was no real dialogue," one Hollywood studio executive with years of experience in China told me in an email when I asked about the substance of the event. "We were shown like monkeys.  So no, there is no indication that anybody got a real sense of Wang, except that he is a very rich man who could afford to pay top talents to come."
The event appeared arranged mostly to impress the local government and Communist Party Officials, "to get better deals and favors," the executive wrote.
Why might Wang, China's richest man, need so badly to impress? He's on his home turf, after all. (Or is he?) Why would a man whose fortune was based originally on real estate in the port of Dalian choose not to base his greatest and most publicly touted project to date back there in Liaoning province?
Perhaps because Dalian is a former stomping ground of Bo Xilai, the politictian who was jailed for life on Sunday—the same day as Wanda's big announcement. There are no known ties between Wang and Bo—ties he denied when he first made a splash in the Western press by spending $2.6 billion to buy America's No.2 movie theater chain, AMC.
But two senior Chinese journalists with state run media with whom I spoke after the Wanda announcement expressed concerns. One said that there might be more Bo-related skeletons forthcoming, perhaps even from Dalian where Bo was mayor (1993-2000) just as Wang's took over as CEO at Wanda (1993) and began building a fortune measured at $8.6 billion this year. The other observed that Chinese entrepreneurs, no matter how powerful, are subject to the whims of the Standing Committee of the Politburo, the secretive men at the top of the Chinese Communist Party: