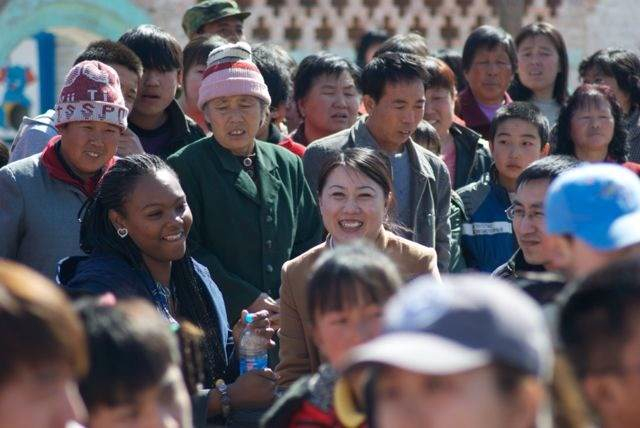 As a young girl, I dreamed of becoming the first female Secretary-General of the United Nations and following in the footsteps of my countryman Kofi Annan. However, I never envisioned being given the role of Ambassador during my college years. But my year abroad in China gave me exactly that -- a practical examination into the world of diplomacy. During my study abroad in China I found myself playing the role of an informal but full-time Ambassador.
Walter Bagehot, a prolific writer and journalist, once opined that "an ambassador is not simply an agent; he is also a spectacle." That word "spectacle" probably best encapsulates my experience as a black female living and studying in China. With my dark skin and my long braids, I stood out in most of the places I went, and realized during my time in China what it meant to be an "alien." On a personal level, my year in China forced me to engage in a complex and intimate dance with the concept of identity; on a more global level, my experiences afforded me valuable perspectives on Sino-Africa relations.
Once, while shopping at a local food market another customer -- upon realizing that I spoke Mandarin -- turned to me and said: "Excuse me, if I may be so bold to ask, in your country do people consider black skin beautiful?" As someone exposed to Western political correctness, I was taken aback by her lack of tact. I responded: "Of course they do and to be honest I wish I were darker." She was equally aghast at my response and said, "I would never have thought that in my lifetime I would hear someone say all you've said. So you really don't want to become lighter skinned? In China we believe the whiter your complexion is the more beautiful you are and there are many ways to achieve this." I politely declined her suggestions to bleach my skin.
Another time, a Beijing taxi driver asked me why Africans eat one another and why the continent is so chaotic.
Another time, a Beijing taxi driver asked me why Africans eat one another and why the continent is so chaotic. Despite my attempt to use facts to dispel these notions, he remained unconvinced. The driver noted the first character for the Chinese word for Africa, "fei" (非), means "to not be; not have; not; wrong; incorrect; lack." I had never thought about it critically; but upon further reflection I became intrigued as to why another character with the same sound and tone but a more positive meaning was not used instead. It raises the question, how are Africans and Africa regarded in China?
With international focus on Sino-Africa relations sharpening, the official rhetoric in both China and Africa purports a relationship cemented around "brotherhood," "friendship," "mutual benefit," and "solidarity." But despite the voluminous trade between the African continent and China and the intimate political relations between several African countries and the Chinese administration, on a person-to-person basis, ignorance, misunderstanding, and intolerance still persist.
Ignorance breeds curiosity, and during my year-long residence in China I felt as though I was part of a circus act. People constantly took pictures of me. Other foreign friends would often joke that I was living the life of a celebrity; that feeling may have lasted for a day, but it quickly becomes annoying in everyday life. Taking the subway -- having cameras flung in my face, being gawked at and becoming the topic of discussion for commuters -- was an indescribable ordeal. While trying to sightsee at the beautiful vistas China is known for, I often became a tourist site myself -- the surprise attraction at the show. It was unsettling to hear people discuss my skin, my hair, and the size of my hands. To preserve my sanity, I found amusement in eavesdropping on people discussing my appearance and then, to their dismay, casually joining their discussion in Mandarin.
I can't stress enough the number of times I fantasized about snatching and flinging a phone used to take my picture, or going on a Mandarin rant at certain over-inquisitive commuters. But I also became aware that some of the most jaw-dropping behavior -- like rubbing my skin to see if it was dirt or pigment -- came from people who had probably never interacted with a black person before. I was also aware that first impressions are particularly important and so felt responsible for making a good impression. I felt burdened to respond with equanimity lest I validate anyone's impressions of Africans as barbaric and wild.