About a decade ago, Adriana Sol was helping design ads in Miami Beach when she realized the advertising trade's nit-pickiness was slowly draining her energy.
"Everything was in the details," she told me recently. Every conversation seemed to involve "having the clients tell me that their logo needed to be a quarter of a shade less green."
She wanted something with more freedom and creativity. In 2005, she applied for a public relations position with Max Borges, a tech-focused agency, and got the job. Within three weeks, she was flown to a music industry trade show in New York. She wrangled a bunch of media attention for the show, including a major spot on VH1. Her early success and the fun of the event itself—Lisa Loeb held a songwriting seminar—made Sol feel like she had arrived. A few years later, she co-founded Vine Communications, her own firm in Miami.
"I found that the freedom of getting clients in front of who they wanted to be in front of was liberating. It's so much better than, 'Does this have a bleed?'" she said, referring to the text on a page that spills over the print area. "It's like, who cares?"
Sol's story is typical in that she fell into PR after a false start in another career—data shows that the vast majority of PR workers majored in something other than communications or marketing. Her situation is also typical, in the literal sense of the word, because Sol is a woman.
Women make up 63 percent of public relations "specialists," according to Bureau of Labor Statistics data, and 59 percent of all PR managers. If you include the advertising world, the people shaping your media messages are 60 percent female, compared to 47 percent of the overall workforce, according to data compiled for The Atlantic by the Institute for Women's Policy Research. Other estimates say the female percentage is closer to 73, or even 85 percent.
Those numbers are even more surprising given that the other side of the media coin, journalism, is roughly evenly split. Men are slightly more likely to be reporters, and women to be editors, but overall, the news world is 51 percent female.
---
Gender Breakdown of PR and Journalism Job Categories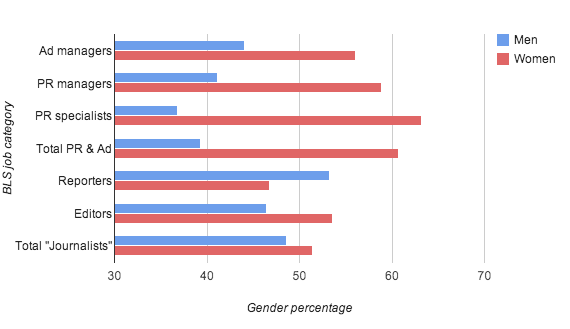 ---
At the tops of PR firms, it's a slightly different story—several women mentioned that the executives are still predominantly male. In fact, the contrast between the workers and the c-suite is so dramatic as to be maddening.
"It's all women out there," said Sarahjane Sacchetti, who handles marketing for Secret. "And the two people running it are dudes. That's the only thing that's puzzled me and angered me for a long time."
The growing feminization of rank-and-file publicists, though, has led a number of writers to chastise their fellow hacks for looking down on the PR Woman. The fact that there are so many women in the industry makes it seem almost sexist to cackle at a horribly conceived press release. Writing in Jacobin in June, Jennifer Pan called PR a uniquely female form of "emotional labor," writing, "the dismissal of the publicist as a corporate shill or a purveyor of a kind of false consciousness that interferes with the otherwise unsullied work of the journalist not only reifies a gendered hierarchy of labor, but additionally eclipses the primacy of emotional labor for all workers under neoliberalism." In other words, there but for the grace of God go you [to Ogilvy and Mather].
Ann Friedman argued in New York that we shouldn't treat PR like "a pink ghetto." Quoting one publicist who says she walks "the line every day between persistent and obnoxious," Friedman writes, "Perhaps it's time for us all to recognize that walking [that line] isn't easy."
I myself have wondered about this tension between reporters and publicists. I had an internship at a PR firm once, and I loved it. I liked being a 21-year-old who wrote speeches for major CEOs. (They were heavily edited, but still.) I liked the challenge of trying to make a company that makes the vacuums that suck the ooze out of diabetic wounds seem sexy. I admired how put-together my female co-workers were, with their pencil skirts and clean hair. There were always 100-calorie packs of Oreos in the kitchen.
I ultimately chose journalism, and I've been happy with my choice. But, especially in those first few rough years in the news biz, all uncertainty and plastic dinner plates, I wondered what might have been.
After graduation I noticed that a large percentage of my female friends were going into either public relations or a related "affective labor" field. Far fewer went into journalism. Today, the overwhelming majority of the PR pitches in my inbox are from women.
But the feminization of PR isn't a product of some sort of mass hysteria (sorry) by female liberal arts majors. It's very rational. Jobs for public relations specialists are growing at 12 percent a year—about the same rate at which jobs for reporter are shrinking each year. PR people now outnumber journalists three to one.
These jobs also have something that most stereotypically "female" jobs don't have: Good pay. While female news reporters make $43,326, on average, (to men's $51,578), female PR "specialists," the lower-level job in the BLS categorization, make $55,705, while their male counterparts make $71,449.