Alexis Madrigal
Wednesday night, our little boy came down with his first real illness, a few weeks shy of his first birthday. He started crying in the middle of the night, and when my wife picked him up, he was hot as a stone warmed by a fire. 
The illness got worse Thursday and Friday. Saturday was hellish. He was writhing in pain on our bed and there was nothing we could do. The pediatrician thought it was probably hand, foot, and mouth disease, which is horrible, if not as horrible as it sounds. 
On Sunday, his fever fell and a rash came up on his back and tummy. That made the diagnosis easy: He had roseola, a common virus. As expected, he began to feel better, hour by hour, until this evening, when we put him to bed, it was easy to forget what he'd been through, and what we, as his parents, had survived, too. 
Roseola is not really a big deal. Kids get sick all the time. This being our maiden voyage, it seemed apocalyptic, but in our clearer-headed moments, we knew how lucky we'd been. Our son has been healthy and strong for almost his entire first year on the planet. 
Even this minor illness presented us with a dilemma. We, like many people, live far from our families. We, like many people, have some childcare during the week so that we can work. Because we, like many people, are a two-job household. 
My wife just launched a new, very cool thing. And my tenure as the deputy editor of this website began six long weeks ago. 
But when you've got a sick kid, there's no sending him with the nanny or bundling him off to the daycare. Someone has got to take care of that kid, and if your family lives far away, that someone is going to be one of the parents. 
Through this episode, I've been thinking about the difficulties of the two-working-parent household. Whose job should take precedence? Who has to call everyone and cancel meetings? Who shoulders the responsibility of family?
For most of the people in previous generations, the answer was easy: Mom. She'd take care of it! In our family, we have tried to maintain as much parity in parenting as possible, for my sake, as much as for hers. I love spending time with our son, and have arranged my whole life to see as much of him as possible. Being a competent father is important to me, and I'm doing pretty well for a first-timer, I think.
And yet—in this first real moment of distress—we found ourselves defaulting to the societal norm. We both assumed that my wife would take care of our son, and my work days would continue like normal. 
Our son, however, had other ideas. For some reason, and for the first time in his life, he decided that he could not be more than three inches from me at any time. Eating, he sat in his high chair, holding onto my shirt. Nursing, he wanted to dangle his feet onto my arms. Sleeping, he crouched next to me and laid his head on my belly, before scooting up onto my chest and drifting into dreams as he had as a newborn.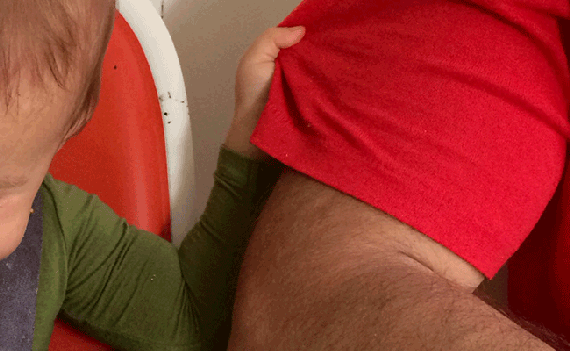 My wife handled this state of affairs beautifully, not least because she had some essays to edit. I, on the other hand, felt the full weight of parenthood finally pressing down on me. The buck stops with me, I thought, but I am not the buckstopper. For as involved as I've been, and as much as I've tried to prioritize our family, when cry came to scream, I could always hand him off to my wife and she could always pacify him. 
Now, it was on me, and he was sick, and he was sad. And I had work. Lots of it. Something had to give.
It was exceedingly hard to say, "Hey, I need to take some time off to care for my sick son." Most workplaces, blue or white collar, would not be nearly as receptive to this request as The Atlantic. But even having a sane, respectful employer didn't make it easy. What was holding me back was something bigger than the company.