"Even though you need no money out there, which is great, you need to do all of this shopping beforehand—all of your camping gear, food, shade, duct tape, body lights so you don't get hit by a car," says Karla MacGregor, proprietor of a personal shopping service called The Burner's Market. "People using my website"—mostly Burners flying in from distant locales—"spend $700, easily." MacGregor is part of a crop of "Burnerpreneurs" who have turned their love for Burning Man into businesses that cater to like-minded customers. The Morris Burner Hotel, a new "member-based hotel for the Burner community" in Reno, is another example.
And that's just getting the basics. Participating—the "Participation" principle is key to creating a vibrant, fleeting city—can mean more of an investment. Some participate by donning elaborate costumes. Others form theme camps like Silicon Village, a 220-person group camp with an annual budget of $20,000, according to the camp's former mayor, Rupert Hart. Expenses include a generator and a bar that offers happy hours.
Hart is also familiar with what it takes to bankroll another big-ticket Burning Man item—a mutant vehicle, or "art car." His, called Joyism, has been to Burning Man 11 times and requires annual repairs, storage fees, and gas. And its small size means a relatively low outlay compared to many of Burning Man's art cars, which take the form of massive covered wagons, seven-headed, fire-breathing metal beasts, and peculiar Victorian homes that Tim Burton would be proud of. A meandering tropical isle called Tiki Island debuted in 2013, fashioned with a second-story DJ tower and third-story lookout platform, thanks to $24,750 fundraised on the crowd-funding site Kickstarter.com.
Burning Man is best known for its abundant art, including large-scale installations that protrude from the monotone earth like surreal trees in an unruly forest. The organization dishes out art grants to nourish these expensive projects ($825,000 to 66 installations last year), but many builders also turn to crowd funding.
"Crowdsourcing effectively removes the power from large money groups to decide what gets made and what doesn't," says Matt Schultz, the artist behind several behemoth Burning Man pieces, of the crowd-funding phenomenon. "It enables the power of individuals to decide. It allows us to find the resources we need to make something amazing. It democratizes the act of production."
Schultz and his team, the Pier Group, first made waves at Burning Man with a 300-foot-long wooden pier-to-nowhere in 2011 that cost $12,500 to build. They returned with the pier in 2012—this time with a life-size, $64,000 Spanish galleon sinking at the end of it. They outdid themselves once again this year, both in size, scope, budget and fundraising abilities: The group's 72-foot-tall wooden sculpture, called Embrace, has been, perhaps, the most buzzed-about piece in the lead-up to this year's festival. Picture two entwined figures proportional to the Statue of Liberty bursting, mid-waist from the ground.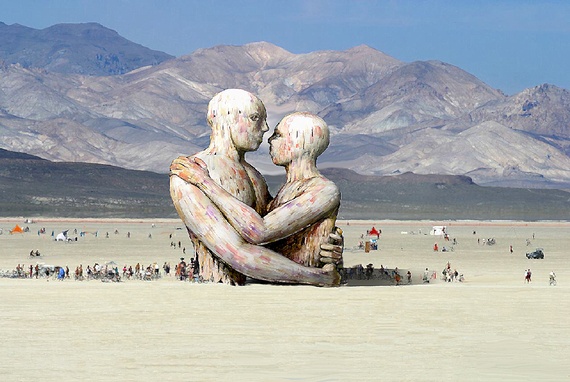 The sculpture, which took shape in a Sparks, Nevada, warehouse with the help of around 200 volunteers, had a budget of $210,000. Its 140,000 pounds of wood, alone, required more than $70,000, says Schultz.
Like everything else that's free to behold inside of Black Rock City, it took donations—or gifts of labor, skill, and time—to make Embrace happen.
What drives this giving, this willingness to pool resources to create something for collective reward? Burning Man is only possible because of it—a full-bodied example of the potential fruits of the sharing economy.
"People invest in the joy it will bring to other people," says Schultz. "We're trying to tell people to invest in things not because they'll get a profit, but because it's beautiful, because it's compelling."
In a world of tech-driven isolation and high-speed consumerism, Larry Harvey believes giving acts as a much-needed antidote to what he calls "capitalism on steroids."
"People give because they identify with Burning Man, with our city, with our civic life," he says. "The idea of giving something to the citizens of Black Rock City has enormous appeal to them because it enhances their sense of who they are, and magnifies their sense of being. That's a spiritual reward."
He says gifting—defined as the act of giving without the expectation of anything in return—alters the notion of value.  
"What counts is the connection, not the commodity," Harvey says.
* * *
As Burning Man culture and ethos seep out into what the community refers to as the "default world," can a gifting economy survive the transfer?
"The term 'gift economy' is and isn't an oxymoron. Certainly, the world couldn't be run through a gift economy," Harvey says.
This is because a gifting economy is more idea than reality—one that is practiced and pondered, but not fully realized. Writer Benjamin Wachs, who blogs for Burning Man under the name "Caveat Magister," has pointed out that calling it an "economy" at all is a misnomer—for one thing, he says, it can't be a self-sustaining economy because it relies on other markets to exist.
"It doesn't actually generate wealth, the vast majority of which comes from outside Burning Man in the form of campers, tents, generators, and loin cloths," he writes.
"Nobody makes it to and from Burning Man without either a day job or the [labors] of people who have day jobs," he goes on. "We're nowhere close to describing, exhibiting, or participating in an 'economy' that truly relies on gifting. … What we do have is a compelling gift 'culture'—and it matters."