The busiest time of year for the Reno-Tahoe International Airport is not Thanksgiving, or Christmas, or any of the other major national holidays. It's Burning Man.  
Every year in late August, the 66th busiest airport in America becomes a doorstep to the annual festival, which manifests and disappears a week later in Nevada's nearby Black Rock Desert.
The terminals are swarmed with jovial, sometimes costumed travelers from dozens of countries. The occasional roving art mobile ("mutant vehicles" in Burning Man parlance) pulls up curbside to ferry pilgrims to their mecca.
A week later, the returning crowd is weary and coated head to toe in a film of fine, stubborn white dust—an inevitable souvenir from the dried lakebed location, known as the "playa." They doze in chairs and on the floor, sometimes huddled in heaps, and wash up in the restrooms. Extra airport staff is deployed, including janitors who, if a particularly dusty person is spotted, "will follow them and clean up behind them as they go," says Brian Kulpin, the airport's vice president of marketing and public affairs.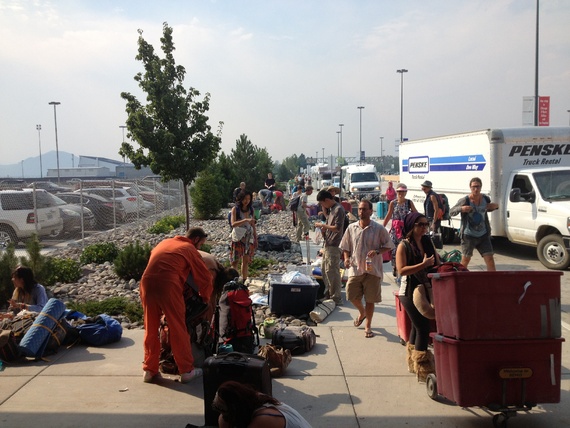 The airport tolerates this amusing bedlam—embraces it, in fact—because these people (70,000 are expected next week) provide an annual stimulus to the airport's micro-economy.
In recent years, the airport has taken to displaying Burning Man-style art and offering a welcome table to festival attendees. Once, the airport held a celebratory parade throughout the terminals, complete with small art cars and performers.
"Every single seat we have coming into this airport the weekend before will be filled and every single seat we have leaving on the departure weekend will be filled," Kulpin says. He estimates that the airport reaps $10 million a year from Burning Man-bound flyers.
"How could we not embrace that?" he asks.
* * *
Similarly lively scenes unfold elsewhere in Reno, and everywhere along the route to Burning Man's ephemeral "Black Rock City": lines of filled-to-the-brim cars tangle around gas stations, grocery stores are emptied of their bottled water, and parking lot marketplaces pop up to hawk duct tape, hats, and other gear in high demand.
These pit stops, hotel stays and last-minute purchases equal $35 million spent by Burning Man participants—"Burners," for the uninitiated—in Nevada each year. Sixty-six percent of respondents in the 2013 Burning Man census (yes, it has a census) reported spending more than $250 in the state on their way to and from the event. Eighteen percent spent more than $1,000. In putting the event on, the Burning Man organization adds to this stream, from $301,660 given to local law enforcement agencies in 2013 to $4.5 million spent on Bureau of Land Management and other usage fees.
"This event has a huge, month-long, positive impact on our local economy," says John Slaughter, county manager for Washoe, which includes everything from Reno to the closest towns to the event, the 200-person-each desert settlements of Gerlach and Empire. "Our stores, restaurants, gas stations, and car washes see an incredible influx of traffic, providing a great boost to the Northern Nevada economy."
The bustling business pulsing in and out of Burning Man is the overlooked inverse of what occurs inside the Black Rock City gates, where the whirl of commerce comes to a halt. Burning Man famously eschews conventional market systems at the event itself.
One of the community's 10 guiding principles is Decommodification—a shunning of transactions, consumerism, sponsorship, and advertising. With the exception of ice and coffee sold by the organizers, there are no vendors. Burning Man swag isn't peddled from a merchandise booth, and all logos are taboo. It'd be a major faux pas to charge a fellow Burner for something.
What fuels the kaleidoscopic pageant of art, music, and play, instead, is another of its principles: gifting. In the gifting economy, participants provide everything but the festival's infrastructure (which includes the eponymous wooden effigy that perishes in a much-photographed tower of cathartic flames at the end of the week). Whiskey bars and grilled cheese stands, workshops and hair-washing stations, DJs and art installations, are all there as gifts, provided by one or more Burners—free of charge—for the enjoyment of others.
As it grows in both size and global recognition, so too do the gathering's economic impacts—both in direct dollar benefits to Nevada and beyond—along with questions of whether its experimental economic principles have potential in the world beyond Black Rock City
* * *
Burning Man had seen many summers in the desert before the organization dispensed its list of 10 principles in 2004, each based on a custom that had organically grown out of the event. Gifting, says founder Larry Harvey, emerged as the preferred system because "participants were unwilling to distance themselves from others through economic transactions."
"Burning Man is like a big family picnic," he told me. "Would you sell things to one another at a family picnic? No, you'd share things."
The curious fact that a lot of money goes into creating a week that is free of money is not lost on Harvey. But those who peg this as a contradiction, he says, misunderstand the intent of the experiment.
"People get confused sometimes," says Harvey, who unleashed Burning Man on the world with a foretelling bonfire at San Francisco's Baker Beach in 1986. "They say that because we have a principle of decommodification, that we're against money. But no, it's not really about money. It would be absurd if we said we repudiated money. In order to assemble a city, we have to use market economics." 
The organization, which recently transitioned from an LLC to a nonprofit (Harvey says he is now the CPO—Chief Philosophical Officer), had a total of $26.8 million in expenditures for 2013. At the individual level, attending the event can easily run $1,000: the $380 festival ticket, camping necessities, a bicycle for getting around, food and water, transportation, etc.