First comes love, then comes marriage, then comes ... actually reverse that. First comes the baby, then, we'll see.
For people who don't have a college degree, having a child in wedlock has become the exception, not the rule. According to a new analysis presented at the Population Association of America, among parents aged 26 to 31 who didn't graduate from college, 74 percent of the mothers and 70 percent of the fathers had at least one child outside of marriage. Even among mothers who had high school degrees or some college but no B.A., the majority of births occur among moms who are either single or cohabiting.
For the study, researchers examined the National Longitudinal Survey of Youth, which interviewed 9,000 young people born between 1981 and 1998 annually from 1997 to 2011. They found that the more education a mother has, the less likely she is to have a baby out of wedlock:
Of mothers with no high school diploma, 87 percent had at least one baby while unmarried.
---
Births among women who didn't finish high school
---
Of mothers with a high school diploma, 71 percent had at least one baby while unmarried.
---
Births among women who finished high school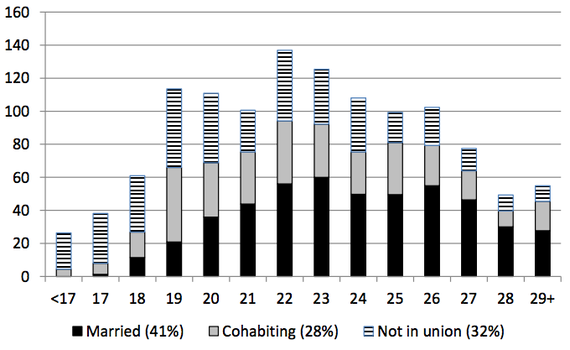 ---
Of mothers with one to three years of college, 67 percent had at least one baby while unmarried.
---
Births among women with some college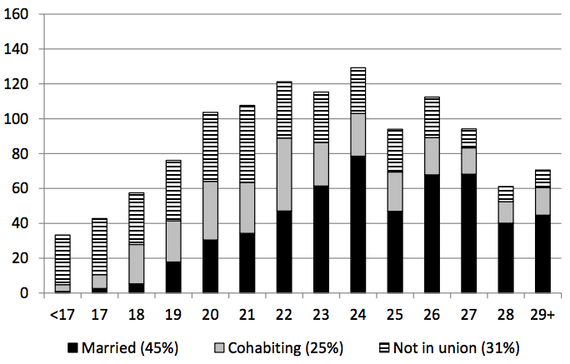 ---
Of mothers with four or more years of college, 32 percent had at least one baby while unmarried.
---
Births among women who completed college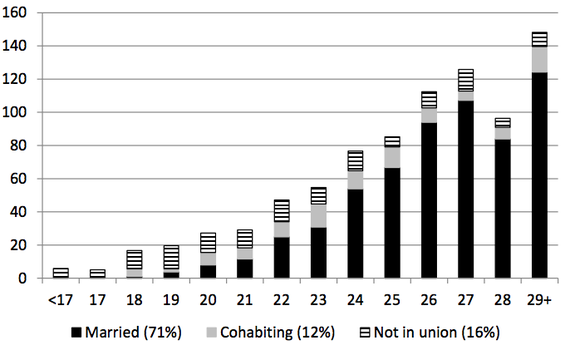 ---
The less-educated mothers also tended to have their children younger. Women with B.A.s were most likely to have children at age 29 or 30, while those with high-school degrees had them at 22.
"The clear line is whether you have a four-year college degree," the study's lead author, Johns Hopkins sociologist Andrew Cherlin, told me. "There are two clear paths through adulthood—one for people who have a bachelor's degree and one for people who don't."
There are several things going on here:
First, the cornerstone theory of marriage no longer applies. Culturally, young adults of all social classes and income levels are less likely to think of marriage as the "cornerstone" of their lives—that is, the first thing they do as adults. Instead, people now think of it as a "capstone"— sort of a trophy for having earned a B.A., obtained a job, and generally learned to live on their own for a while. The national marriage age has gradually ticked up as a result. For people who don't have all the stones leading up to the capstone, though, the entire order of operations gets messed up.
Second, marriage is increasingly something only educated people do. As my former colleague Jordan Weissmann wrote, the less a man earns these days, the less likely he is to have ever been hitched. College-educated people are increasingly only marrying other college-educated people, and they're more likely to get married overall. One reason less-educated women are having children out of wedlock is that college-educated men are not interested in marrying them.
"The college-educated young adults can see a good future, where they're likely to find a good partner, pool two incomes, and they're willing to wait to have kids till they can do that," Cherlin said. Meanwhile, the less-educated women "don't see the possibility of finding partners with good incomes. And many are unwilling to give up the opportunity to have a kid by waiting."
Women without college degrees see a dearth of husband options around them. Incarceration rates are higher among the poor, and even low-income men tend to view marriage as something they should only do after they get a good job.