Everett Collection/Shutterstock/The Atlantic
Nineteenth-century retailer John Wanamaker is responsible for perhaps the most repeated line in marketing: "Half the money I spend on advertising is wasted, the trouble is I don't know which half."
Today, marketers are grappling with the Wanamaker Paradox: The more we learn which half of advertising is working, the more we realize we're wasting way more than half.
Perhaps you're nodding your head about now. Most people you know don't click online ads. At least, not on purpose. But now research is getting closer to quantifying exactly how few people click on Internet ads and exactly how ineffective they are. It's not a pretty picture. 
The Problem With Search
Take search ads, which have helped Google become the richest advertising company in the history of the world. Search ads are magic, in a way. Throughout history, most ads have been imprecise branding. You're watching TV or reading the newspaper, and you're interrupted by marketing—Samsung's new thing is shiny; Ford F-something-something can drive through dirt; Blah blah blah GEICO—that has the staying power of a snowflake in an oven. But search catches consumers at the moment they're actually looking for something. It shrinks the famous "purchase funnel" to its final stage and gives us tailored answers when we're asking a specific question.
That's the theory, at least. But a new controlled study on search ads from eBay research labs suggests that companies like Google vastly exaggerate the effectiveness of search.
For example, consider what happens when I look up a brand, like Nike. An ad for Nike.com appears just above an organic link to ...  Nike.com.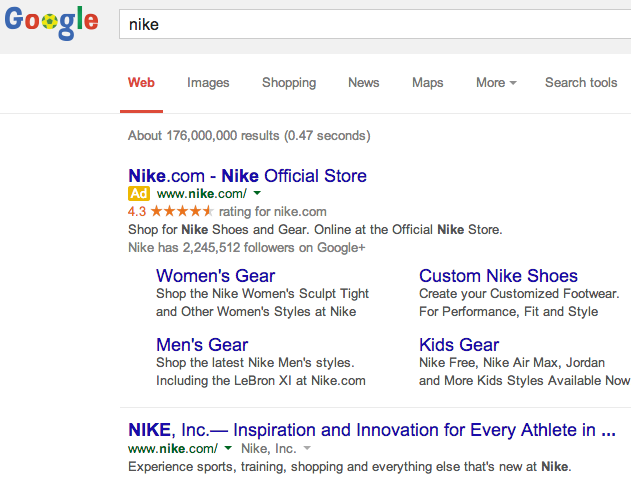 Campaigns like this have "no measurable short-term benefits," the researchers concluded. They merely give consumers a perfect substitute for the link they would have clicked anyway. (The only way it would add value is if Nike is paying to keep a rival like Adidas out of the top slot ... assuming Google would sell Adidas the top sponsored link on searches for "Nike").
But what about more common searches for things like "buy camera" or "best cell phone," where many different companies are bidding to answer our queries? A well-placed search ad ought to grab curious consumers at the peak of their interest.
But in a study of search ads bought by eBay, the most frequent Internet users—who see the vast majority of ads; and spend the most money online—weren't any more likely to buy stuff from eBay after seeing search ads. The study concluded that paid-search spending was ironically concentrated on the very people who were going to buy stuff on eBay, anyway. "More frequent users whose purchasing behavior is not influenced by ads account for most of the advertising expenses, resulting in average returns that are negative," the researchers concluded.
'I Was Gonna Buy It, Anyway'
I'm not fully convinced that search ads are as ineffective as this paper suggested. To their credit, the authors admit that other studies about Google have found search to have higher ROI.
But the big idea behind their research is powerful. Academics call it endogeneity. We can call it the I-was-gonna-buy-it-anyway problem. Some ads persuade us to buy. Some ads tell us to buy something we were already going to buy, anyway. It's awfully hard to figure out which is which.
Enter Facebook, the second-biggest digital ad company in the U.S. Just as Google is synonymous with search, Facebook is ubiquitous with social. The News Feed is the most sophisticated content algorithm ever. The company represents the spine of so many apps and sites that it can marshal an astonishing (and growing) amount of data about us.
While Google can convert consumers at the bottom of the purchase funnel, Facebook is more like TV, a diffuse broadcast of stories where some companies hope to interrupt our lazy attention with branding messages. In 2012, Facebook partnered with Datalogix, a firm that measures the shopping habits of 100 million U.S. families, to see if people who went on Facebook and saw ads for, say, Hot Pockets, were more likely to go out and buy Hot Pockets. According to Facebook's internal studies, the ads weren't getting many clicks, but they were working brilliantly. "Of the first 60 campaigns we looked at, 70 percent had a 3X or better return-on-investment—that means that 70 percent of advertisers got back three times as many dollars in purchases as they spent on ads," Sean Bruich, Facebook's head of measurement platforms and standards, told Farhad Manjoo.