Wikimedia Commons
The appropriate thing to say about taxes on April 15 is that they're absolutely terrible. And yes, sure, they are, in a way. Filling out taxes is miserable (especially considering the IRS could probably do it all for you), watching money leave your bank account stinks, and seeing the difference between your adjusted gross income and your take-home pay is depressing.
But perhaps more than any other law, taxes are a keen reflection of what we value as a country. You know what you're paying this year. Here's some information about where your money's going—and where it would go if you lived in Spain, or France ... or in the U.S. 50 years ago.
Where do our federal taxes go?
Defense and insurance. It might not surprise you that about $1 in every $5 of federal taxes paid goes to defense. But the rest of the budget is overwhelmingly designed to insure the old and poor and provide a safety net. Social Security, Medicare/Medicaid/CHIP, safety net programs, and veterans' benefits account for nearly two-thirds of the budget (not including interest paid on our debt). This great chart is from the Center on Budget and Policy Priorities.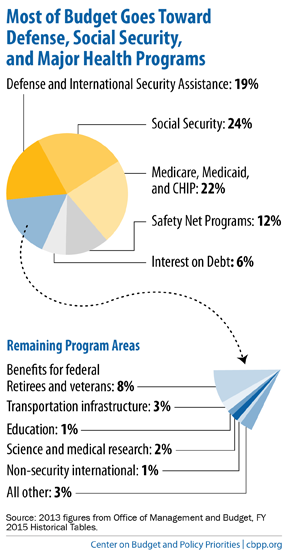 Actually, I'd prefer a more detailed description of exactly where my federal taxes go.
Okay, let's say you're a family making $50,000, married with one child. Let's also say you put 2 percent of your wages toward a 401(k), don't itemize, and claim the Saver's Credit and Child Tax Credit. This is what your tax receipt might look like. You're paying $440 to have the finest military on the planet. You're paying $9.59 on unemployment insurance. You're paying $15.98 to ensure that the federal government can help you out if there's a natural disaster that takes out your town. You're also paying about $4,000 in Social Security and Medicare taxes.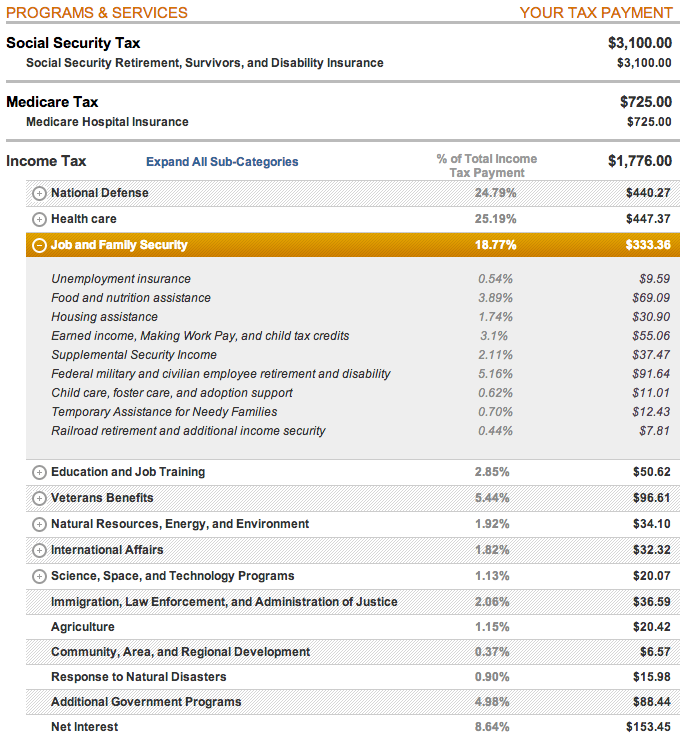 What about my state and local taxes? Where do they go?
Commentators, unlike taxpayers, tend to forget about state and local taxes when they make pronouncements about who pays what. But Americans fork over nearly $1 trillion in state and local levies each year. This pile of money goes mostly to education and health care.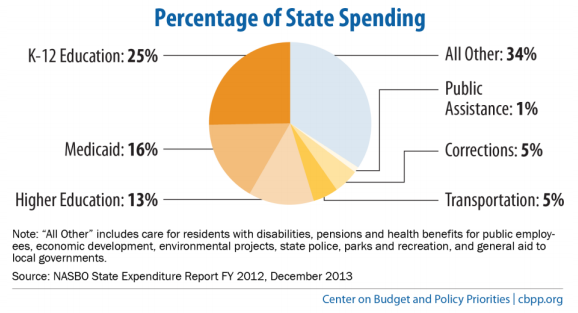 How does the federal government make money?
Washington has two big money streams, which together account for 80 percent of all federal income: (1) payroll taxes, which are split between employers and employees to fund programs like Social Security, and (2) income taxes, which you're all too familiar with now that it's the middle of April. The media tends to focus on income taxes, because they are the main arena of battle between Republicans and Democrats. But payroll taxes make up just about the same share of government revenue, especially since corporate income taxes have shriveled in the last 60 years as a share of the total pie. [Tax Policy Center]
Are taxes progressive?
Interesting question. The federal tax code is basically progressive. Richer people tend to pay higher effective taxes (even though wealthy people who make most of their income from capital gains and dividends benefit from low rates designed to encourage saving and investing). But sales taxes and gas taxes are regressive. As a result, the share of total taxes paid by each income group is fairly similar to the share of income, as the left-leaning Citizens for Tax Justice has argued. So yes, the tax code is progressive. But not as progressive overall as you might think, or hope.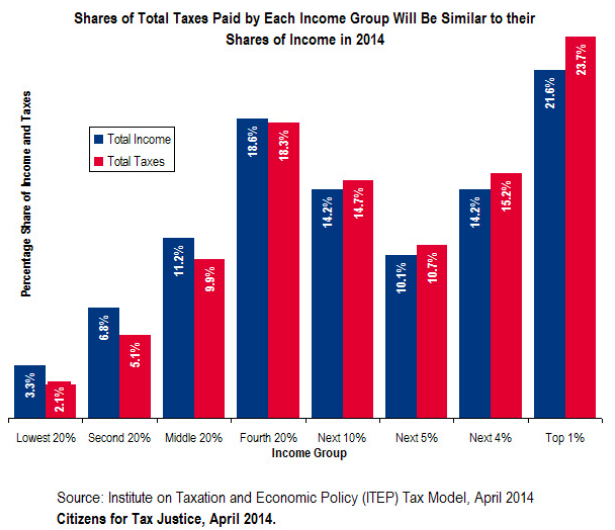 Is it true that nearly 50 percent of families don't pay taxes?
No. This is a fun talking point, but like most talking points, it's woefully incomplete. While it's true that about 50 percent of families don't pay a positive federal income tax, remember than an equal share of federal government revenue comes from payroll taxes. Practically all earners in their prime-working years pay a total federal tax, as this Hamilton Project graph shows. (Plus, you probably pay sales and excise taxes every time you pay for dinner or fill up your car with gas.)