Hellolapomme/Flickr
What's happening to American matrimony? In 1960, more than 70 percent of all adults were married, including nearly six in ten twentysomethings. Half a century later, just 20 percent of 18-29-year olds were hitched in 2010. Marriage was the norm for young America. Now it's the exception.
American marriage is not dying. But it is undergoing a metamorphosis, prompted by a transformation in the economic and social status of women and the virtual disappearance of low-skilled male jobs. The old form of marriage, based on outdated social rules and gender roles, is fading. A new version is emerging—egalitarian, committed, and focused on children.
There was a time when college-educated women were the least likely to be married. Today, they are the most important drivers of the new marriage model. Unlike their European counterparts, increasingly ambivalent about marriage, college graduates in the United States are reinventing marriage as a child-rearing machine for a post-feminist society and a knowledge economy. It's working, too: Their marriages offer more satisfaction, last longer, and produce more successful children.
The glue for these marriages is not sex, nor religion, nor money. It is a joint commitment to high-investment parenting—not hippy marriages, but "HIP" marriages. And America needs more of them. Right now, these marriages are concentrated at the top of the social ladder, but they offer the best—perhaps the only—hope for saving the institution.
The Marriage Gap
Matrimony is flourishing among the rich but floundering among the poor, leading to a large, corresponding "marriage gap." Women with at least a BA are now significantly more likely to be married in their early 40s than high-school dropouts: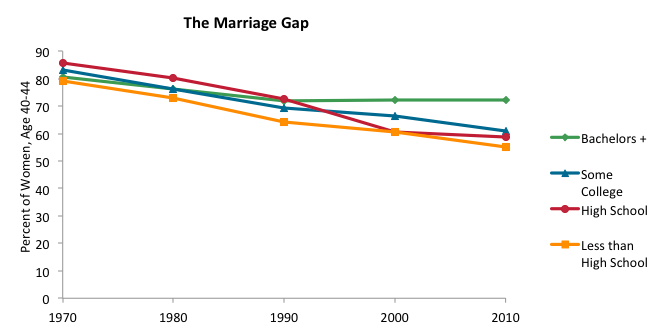 During the 1960s and 1970s, it looked as if the elite might turn away from this fusty, constricting institution. Instead, they are now its most popular participants. In 2007, American marriage passed an important milestone: It was the first year when rates of marriage by age 30 were higher for college graduates than for non-graduates. Why should we care about the class gap in marriage? First, two-parent households are less likely to raise children in poverty, since two potential earners are better than one. More than half of children in poverty—56.1 percent, to be exact—are being raised by a single mother.
Second, children raised by married parents do better on a range of educational, social and economic outcomes. To take one of dozens of illustrations, Brad Wilcox estimates that children raised by married parents are 44% more likely to go to college. It is, inevitably, fiendishly difficult to tease out cause and effect here: Highly-educated, highly-committed parents, in a loving, stable relationship are likely to raise successful children, regardless of their marital status. It is hard to work out whether marriage itself is making much difference, or whether it is, as many commentators now claim, merely the "capstone" of a successful relationship.
Three Kinds of Marriage                 
The debate over marriage is also hindered by treating it as a monolithic institution. Today, it makes more sense to think of "marriages" rather than "marriage." The legalization of same-sex marriages is only the latest modulation, after divorce, remarriage, cohabitation, step-children, delayed child-bearing, and chosen childlessness.
But even among this multiplicity of marital shapes, it is possible to identity three key motivations for marriage—money, love, and childrearing—and three corresponding kinds of marriage: traditional, romantic, and parental (see Box).
Traditional marriage is being rendered obsolete by feminism and the shift to a non-unionized, service economy. Romantic marriage, based on individual needs and expression, remains largely a figment of our Hollywood-fueled imaginations, and sub-optimal for children. HIP marriages are the future of American marriage—if it has one.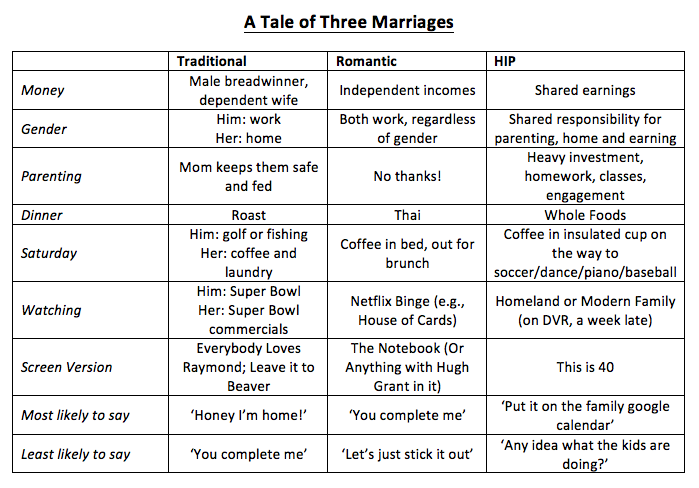 1. Traditional Marriage: Going, Going...
The traditional model of marriage is based on a strongly gendered division of labor between a breadwinning man and a homemaking mom. Husbands bring home the bacon. Wives cook it. In these marriages, often underpinned by religious faith, duty and obligation to both spouse and children feature strongly. In their ideal form, traditional marriages also institutionalize sex. Couples wait until the wedding night to consummate their relationship, and then remain sexually faithful to each other for life.
Attempting to restore this kind of marriage is a fool's errand. The British politician David Willetts says that conservatives are susceptible to "bring backery" of one kind or another. Many conservative commentators on marriage fall prey this temptation: To restore marriage, they say, we need to bring back traditional values about sex and gender; bring back "marriageable" men; and bring back moms and housewives.
It is too late. Attitudes to sex, feminist advances, and labor market economics have dealt fatal blows to the traditional model of marriage.
Sex before marriage is the new norm. The average American woman now has a decade of sexual activity before her first marriage at the age of 27. The availability of contraception, abortion, and divorce has permanently altered the relationship between sex and marriage. As Stephanie Coontz, the author of Marriage, A History and The Way We Never Were, puts it, "marriage no longer organizes the transition into regular sexual activity in the way it used to."
Feminism, especially in the form of expanded opportunities for women's education and work, has made the solo-breadwinning male effectively redundant. Women now make up more than half the workforce. A woman is the main breadwinner in 40% of families. For every three men graduating from college, there are four women. Turning back this half century of feminist advance is impossible (leaving aside the fact that is deeply undesirable).