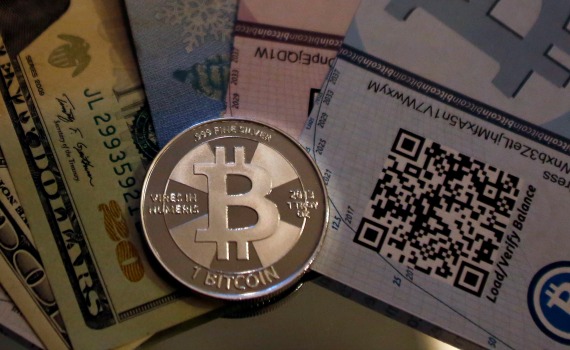 Reuters
Nerds love Bitcoin, and they think you should too.
Actually, they think you will. They think it's the payments system, if not the currency, of the future. Something that will end Paypal, not the Fed. A way to send anything to anyone online for little to no fees. But mostly, they think Bitcoin is a technical marvel—because it is. Though that doesn't make it an economic marvel. At least not yet.
Netscape founder and venture capitalist Marc Andreessen is one of those nerds. He thinks Bitcoin is a game-changing technology on the scale of the PC and the Internet. In his telling, all were discounted as techie playthings, and all went on—or will go—to so fundamentally change how we live that we can't imagine life without them. There's something to that, but it's not enough on it's own. As I put it before, every big idea starts out sounding crazy, but not every crazy-sounding idea ends up being big. Some of them end up being ... Segway. That said, Bitcoin does hold a lot of promise, and it could change how we pay for things. But it's not there yet.
Here's why it could be big, why it isn't, and how it could in seven steps.
1. It's called the double-spending problem. Say I send you money online. You can't tell whether I've sent the exact same money to somebody else too. It's just too easy for me to copy the money's digital information, and use it more than once. Maybe I'm honest. But maybe I'm not, and I'm "paying" you with a dollar that's already been spent.
2. That's where financial institutions come in. They sit in the middle of every online transaction, and confirm that, yes, this money hasn't been spent before. These intermediaries add trust to the system, but this trust doesn't come cheap: They typically charge 2.5 percent per transaction.
3. Bitcoin's genius is it confirms transactions with a decentralized network of people who don't charge fees instead of financial institutions that do. Who are these people doing something for nothing? Well, they're Bitcoin miners, and they're not actually working for free—they're getting paid with new bitcoins.
For the uninitiated, Bitcoin is a virtual currency with a strictly limited supply that only grows at a slow, preset rate. Basically digital gold. And like actual gold, the only way to get new bitcoins is to "mine" them—but by solving computationally-taxing math problems, not with a pick and pan. In this case, though, the invisible hand is plenty easy to see. Solving these math problems doesn't just win new bitcoins for individual miners. It verifies all Bitcoin transactions for the entire network.
4. So why do people bother mining for bitcoins? Well, the question answers itself: because it's profitable, and they expect it to be even more so if Bitcoin keeps going up in value. This last point is critical. Bitcoin mining has become incredibly competitive the last few years—just look at the supercomputer fortresses in Iceland that use geothermal power and Arctic air for cooling—and that competition drives down margins. That means miners are really counting on Bitcoin to continue its journey to infinity and beyond, to keep rising forever.
5. When the price of money goes up, the price of everything else goes down. It's called deflation, and it's death for an economy. People put off buying things when they'll cost less tomorrow than today. Companies put off investing when their customers put off buying. And people who borrowed money are stuck trying to pay debts that don't change with wages that do—and have fallen.
But Bitcoin's deflationary bias is a feature, not a bug. It's why miners want to mine, and why there are no transaction fees. In other words, Bitcoin can't work as a technology without deflation. The question is whether Bitcoin can work as a currency with it.