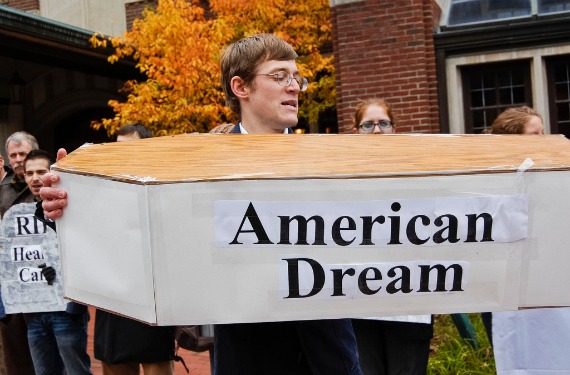 Flickr: Sasha Y. Kimel
The top 1 percent aren't killing the American Dream. Something else is—if you live in the wrong place.
Here's what we know. The rich are getting richer, but according to a blockbuster new study that hasn't made it harder for the poor to become rich. The good news is that people at the bottom are just as likely to move up the income ladder today as they were 50 years ago. But the bad news is that people at the bottom are just as likely to move up the income ladder today as they were 50 years ago.
We like to tell ourselves that America is the land of opportunity, but the reality doesn't match the rhetoric—and hasn't for awhile. We actually have less social mobility than countries like Denmark. And that's more of a problem the more inequality there is. Think about it like this: Moving up matters more when there's a bigger gap between the rich and poor. So even though mobility hasn't gotten worse lately, it has worse consequences today because inequality is worse.
But it's a little deceiving to talk about "our" mobility rate. There isn't one or two or even three Americas. There are hundreds. The research team of Raj Chetty, Nathaniel Herndon, Patrick Kline, and Emmanuel Saez looked at each "commuting zone" (CZ) within the U.S., and found that the American Dream is still alive in some parts of the country. Kids born into the bottom 20 percent of households, for example, have a 12.9 percent chance of reaching the top 20 percent if they live in San Jose. That's about as high as it is in the highest mobility countries. But kids born in Charlotte only have a 4.4 percent chance of moving from the bottom to the top 20 percent. That's worse than any developed country we have numbers for.
You can see what my colleague Derek Thompson calls the geography of the American Dream in the map below. It shows where kids have the best and worst chances of moving up from the bottom to the top quintile—and that the South looks more like a banana republic. (Note: darker colors mean there is less mobility, and lighter colors mean that there's more).
So what makes northern California different from North Carolina? Well, we don't know for sure, but we do know what doesn't. The researchers found that local tax and spending decisions explain some, but not too much, of this regional mobility gap. Neither does local school quality, at least judged by class size. Local area colleges and tuition were also non-factors. And so were local labor markets, including their share of manufacturing jobs and those facing cheap, foreign competition. But here's what we know does matter. Just how much isn't clear.
1. Race. The researchers found that the larger the black population, the lower the upward mobility. But this isn't actually a black-white issue. It's a rich-poor one. Low-income whites who live in areas with more black people also have a harder time moving up the income ladder. In other words, it's something about the places that black people live that hurts mobility.
2. Segregation. Something like the poor being isolated—isolated from good jobs and good schools. See, the more black people a place has, the more divided it tends to be along racial and economic lines. The more divided it is, the more sprawl there is. And the more sprawl there is, the less higher-income people are willing to invest in things like public transit. 
That leaves the poor in the ghetto, with no way out for their American Dreams. They're stuck with bad schools, bad jobs, and bad commutes if they do manage to find better work. So it should be no surprise that the researchers found that racial segregation, income segregation, and sprawl are all strongly negatively correlated with upward mobility. But what might surprise is that it doesn't matter whether the rich cut themselves off from everybody else. What matters is whether the middle class cut themselves off from the poor.