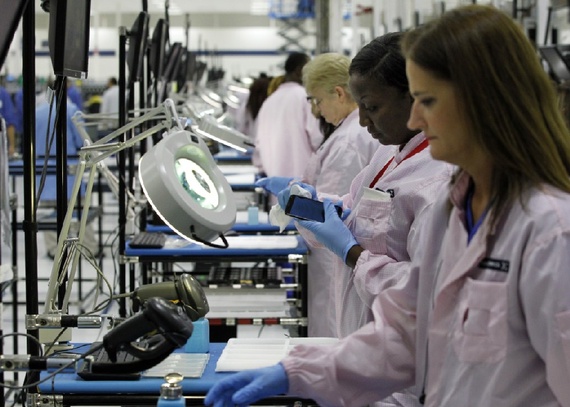 Few topics have been more fraught than the fate of U.S. manufacturing. The sharp loss of manufacturing jobs since 2008 has triggered legitimate concern that America's best days may have passed.
Even as recent leading indicators suggest more economic momentum, job growth remains at best sluggish and manufacturing has seen only marginal gains—having shed more than two million jobs in 2008-2009, and millions more since the peak in the late 1970s. Manufacturing accounted for slightly less than 20 million jobs at the peak in 1979. Now it's barely 11 million.
The picture is even bleaker considering the population, since the labor force is considerably larger today. This has led to a widespread conviction that the core of the potent U.S. economy is being hollowed out.
So it is not surprising that Washington's latest highly-touted initiative seeks to rejuvenate American manufacturing and restore lost jobs. President Barack Obama unveiled an initiative Wednesday in North Carolina designed to foster high-tech manufacturing for the long term.
With money from the Energy Department, the Raleigh-Durham area—already home to several leading universities that are part of what is called a research hub—will develop an innovation institute to foster high-tech manufacturing, such as semiconductors. The promise is that such manufacturing and its attendant jobs are vital to competing in today's global economy. Though the administration can fund a number of these without Congress acting, the White House has calledon the legislature to pass funding for an additional 45 such centers around the country.
The assertion that the United States, or any nation, requires continued investment in the technologies that will drive future production is indisputable. On that score, at least, the Obama White House is fighting the proverbial good fight.
The contention, however, that these technologies and the factories that harness them for production will be sources of well-paid, solidly middle-class jobs, is flawed. In our political debates, we maintain the comforting fiction that a manufacturing revival can and will go hand-in-hand with a jobs revival. Yet, as Obama's initiative shows, the two can be—and increasingly are—uncoupled.
The issue is not the hollowing-out of manufacturing as defined by less production. Yes, many less expensive, simpler products are now made more cheaply elsewhere and are unlikely to be made in the United States anytime soon—even with the "on-shoring" of manufacturing. Though China ceases  to be the place of low-cost production, Vietnam, the Philippines and who knows where else (even Mexico) will be more attractive for apparel, furniture, electronics and anything plastic for a long time to come.
The high-end production that these new U.S. innovation hubs seek to promote is indeed in demand around the world. It is something where, as yet, China and other low-cost manufacturing centers have not excelled. This is why China actually imports considerable billions of higher-end equipment–particularly from Japan and Germany. So it is true that the United States could have a competitive advantage, especially given the plethora of research universities and the wealth of highly-educated talent that can be used for just this type of production.