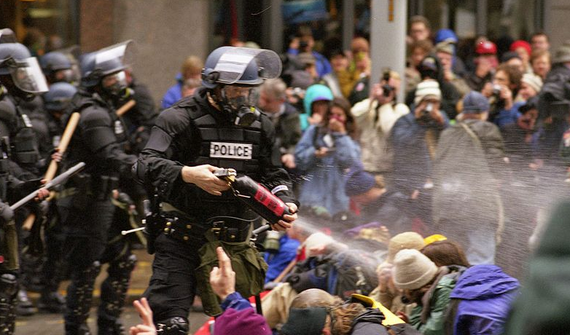 In 1999, my friend moved to Seattle, where he was hit with rubber bullets, tear-gassed in the face, and nearly arrested by police. He had joined the famous protests of the WTO Ministerial Conference, widely known as the Seattle Protests. The Occupy Wall Street of their time, they focused on globalization rather than the excesses of finance. And, quite like the Occupy Wall Street of their time, they were often mocked by critics as silly, aimless, and overly hand-wringy about the future.
The organizers were a hodgepodge of groups—unions worried about competition from cheap foreign labor, environmentalists worried about the outsourcing of polluting activities, consumer protection groups worried about unsafe imports, labor rights groups worried about bad working conditions in other countries, and leftists of various stripes simply venting their anger at capitalism.
In the decade that followed, the Seattle protests came to seem as not only silly, but also misguided. After all, what were the excesses of globalization compared to the travesty of the Iraq War, or the disaster of the financial crisis? America seemed to decide that we had much more important things to protest about, and the Seattle protesters have been largely forgotten in our pop media culture.
It is a shame, because the worries of the Seattle protesters have been proven right on nearly every count.
The Dark Side of Globalization
The clearest example is competition from foreign workers, which really has slammed the American working class. Economists David Autor, David Dorn, and Gordon Hanson did very careful empirical work and found that competition from China lowered wages and increased unemployment for American workers who were in competition with Chinese imports. Economists Michael Elsby, Bart Hobijn, and Aysegul Sahin found that competition from developing countries—not the decline of unions or the rise of automation—has been responsible for the bulk of the recent decline in labor's share of income in the United States.
Chinese imports have lowered prices for consumers and raised the income of capital owners, but those benefits are either spread very thinly over a large number of people, or concentrated among the rich. The American workers who have been hurt by globalization have been hurt very badly, and America has no system in place to compensate them for that loss. China's accession to the WTO in 2000, following the 1999 meeting, accelerated its rise as an export powerhouse.
Next, take unsafe imports. The scary truth is that we don't even really know how much of a problem this is. But here's what we do know: Food imports from China have skyrocketed, and the FDA has had trouble keeping up with the swarm of possible dangers. Although the U.S. and China have worked to improve safety standards for imported toys, Chinese toys still contain large amounts of heavy metals, including lead. If childhood-lead exposure really does lead to violent crime, it suggests Seattle protesters warned us of a considerable danger.