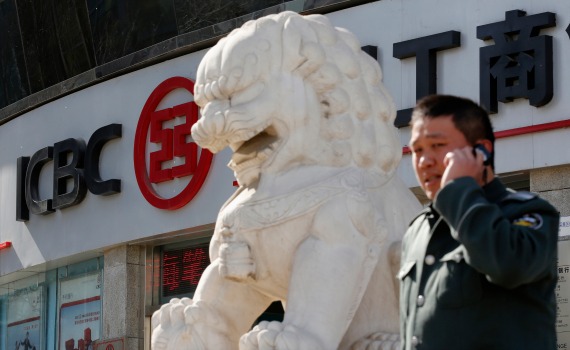 Reuters
A historic credit boom. Unregulated lenders promising high, "risk-free" returns. And surging property prices making it all go.
Is this the U.S. in 2004, or China in 2014?
When you think about China's economy, you probably think about manufacturing. The past 30 years, cheap labor and a cheap currency have turned it into the world's workshop. That is, China has gotten rich—or at least richer—by making things and selling them to rich countries.
Then Lehman happened. Foreign demand disappeared, and China had to find something to replace it. But more than that, it had to find something to replace its old export-led growth model. Even without a once-in-three-generations financial crisis, that model would have run out, because China's reservoir of cheap labor is running out. Its urbanization rate has already peaked—fewer people are moving to the cities than before—and its working-age population has too, in part due to its one-child policy. That means there aren't as many people competing for jobs—so wages will rise. They already have. But if they rise too much, Chinese goods won't be as competitive with the new low-wage factories in, say, Vietnam. Or even the medium-wage ones in Mexico.
Meet the New Model (Actually Different from the Old Model)
The term of art is that China needs to "rebalance."
It needs to move from export-led to consumption-led growth. Which means it needs to scrap its system of subsidies that transfer money from households to companies—everything from caps on the interest rates banks can offer customers to its artificially-weak currency. But these aren't easy things to do. It's not just that the big exporters are politically powerful. It's that the government is worried about doing anything that would hurt growth short-term, even if it would help long-term.
So there haven't been any big reforms. There's been a big credit bubble instead. Local governments and developers have gone on a borrowing binge the past five years to build new infrastructure and new cities, including ghost ones. In other words, China is getting rich now by building the things it needs to be rich, and putting it all on the credit card. The result, as the ratings agency Fitch points out, has been a bigger credit increase relative to GDP than just about anywhere else in history. As you can see in the chart below from Credit Suisse, total credit shot up from around 120 percent of GDP in 2008 to 190 percent today—most of it from so-called "shadow banks" that aren't regulated. In comparison, U.S. credit "only" went up 40 percentage points of GDP in the five years before the housing bubble popped.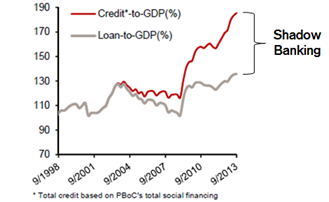 Nobody knows how much we should worry about China's shadow banks, because nobody knows much about them. Not even the people buying their bonds. Reuters, for example, looked into one shadow bank product called "Golden Elephant No. 38" that promises a 7.2 percent return, but doesn't say what's backing the security. After some digging, Reuters found out it was an almost-abandoned housing project in a rural province. This might sound like a scare story, but it's actually a fairly typical one. They looked at 50 other products, and didn't find much better—or any—disclosure.