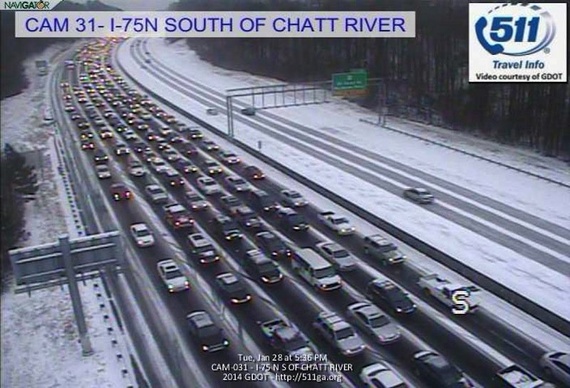 I know what you're thinking (I grew up outside of D.C. and Boston): "How can 2 inches of snow shut down Atlanta?"
Before I got here, I thought that too. I wonder it every time there's a run on the grocery stores before a storm, or when some other city cancels schools before a flake has even hit the ground.
And surely, the drivers play a part. I was out getting coffee around noon yesterday, just when things were starting to get bad (at the time there was, at most, a half inch of snow on the ground), and set out to drive my 2 miles home, a straight shot on a fairly major surface street. It took me around 30 minutes. Part of the reason was one of the drivers in front of me (with Tennessee plates) was going 5 miles-per-hour in a 35 miles-per-hour zone with no cars in front of them. But even with my car—2013 model, 10,000 miles on it—I was skidding at times on the gentle incline of a street that hadn't been treated with sand/salt/gravel at all.
My wife left work in Woodstock, a city 30-35 miles northwest of here, a little after noon yesterday, and took 3.5 hours to get home. She was one of the lucky ones.
Yes, Atlanta has many drivers who are inexperienced in the snow, but for a region that gets a storm (I know, I know "2 inches = storm") like this at most once every few years, how is anyone supposed to be experienced in the snow? How do you think San Francisco would handle a couple inches of snow? Going north/south on Franklin or Gough, or east/west on Fell or Oak? How do you think the N-Judah out in Cole Valley or the Sunset would handle it? This is a metro area of 6 million people, and it's time to think beyond "those silly southern drivers."
Metro areas of 6 million people need to be prepared for anything.
Which leads into the blame game. Republicans want to blame government (a Democrat thing) or Atlanta (definitely a Democrat thing). Democrats want to blame the region's dependence on cars (a Republican thing), the state government (Republicans), and many of the transplants from more liberal, urban places feel the same way you might about white, rural, southern drivers. All of this is true to some extent but none of it is helpful.
How much money do you set aside for snowstorms when they're as infrequent as they are? Who will run the show—the city, the county, or the state? How will preparedness work? You could train everyone today, and then if the next storm hits in 2020, everyone you've trained might have moved on to different jobs, with Atlanta having a new mayor and Georgia having a new governor.
Regionalism here is hard. The population of this state has doubled in the past 40-45 years, and many of the older voters who control it still think of it as the way it was when they were growing up. The urban core of Atlanta is a minority participant in a state government controlled by rural and northern Atlanta exurban interests. The state government gives MARTA (Atlanta's heavy rail transportation system) no money. There's tough regional and racial history here which is both shameful and a part of the inheritance we all have by being a part of this region. Demographics are evolving quickly, but government moves more slowly. The city in which I live, Brookhaven, was incorporated in 2012. This is its first-ever snowstorm (again, 2 inches). It's a fairly affluent, mostly white, urban small city. We were unprepared too.