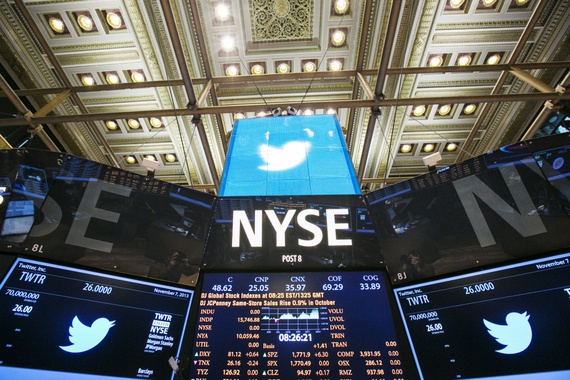 Twitter's initial public offering last week was everything that Facebook's botched offering a year and a half ago was not: the stock was reasonably priced; management wooed investors; and the company neither promised the moon nor the stars, and was rewarded with a substantial amount of cash raised, a stock that went up more than 75 percent, and a valuation of $25 billion.
Though shares pulled back sharply — and predictably — the day after its IPO, Twitter has now joined the pantheon of leading social media companies. It has yet to make a profit, but unlike the 1990s Internet comets it is routinely compared to, it is making substantial revenue (on pace for just under $600 million this year). That is substantially less than Facebook was making when it went public ($3.7 billion), but more than LinkedIn was generating when it went public in 2011 (estimated at $220 million).
That said, at its IPO Twitter was valued higher than either Facebook or LinkedIn at the time of their public offerings. In that sense, Twitter's reception does raise a vital question: are these companies doing more than making their founders and investors rich? Are they doing more than satisfying some nice need of their customers? Are they, in short, changing the world the way they claim? Or is that claim just a useful marketing device that makes otherwise pedestrian businesses appear to be something far grander, convincing investors to pay more than they would for equivalent businesses in more prosaic industries?
I've been wondering about this question for several years, and for now, it remains a question. The hype and draw of social media in its many and various forms is undeniable. Whether it is the Twitter IPO, or Yahoo's $1 billion purchase of Tumblr, or the panoply of new companies that pop up in Silicon Valley and NYC's Silicon Alley, these companies have buzz and they also garner income. Because so many of them serve as new media companies, occupying the same general space as journalists, they garner attention. Yahoo's Marissa Mayer gets substantial press, far more than the chief executive officers of many companies many times larger. The same can be said for Twitter and before it Groupon, Zynga, and a host of others whose size was modest compared to many public companies, but whose profile was anything but.
Ask denizens of the Valley what they think, and they'll say that companies like Twitter command premiums and generate buzz because they are transformative. They are transformative the way that Apple, Google, Microsoft and Oracle were transformative. They change the way consumers and businesses live and function, and they make it possible for people to connect ever more seamlessly to the products, services and people that they wish to and need to. Or so the argument goes.
Many people outside of the Valley view these claims with skepticism, hearing an echo of 1990s tech utopianism. And they are right — to a point. The problem with the tech utopianism of the 1990s wasn't the utopian part; it was the speculative bubble. In that respect, the problem with tech in the 1990s wasn't the technology. It was instead a toxic mix of pop culture and Wall Street that produced such overweening, Tulip mania-valuations.
And in fact, the actual innovations of technology over the past twenty years have made businesses more productive and unlocked the potential of individuals. Oracle has more than lived up to the grandiosity of its vision, and has become the digital highway for vast swaths of the world. Google is, of course, Google, and numerous smaller companies known only to the technorati are making possible everything from Big Data to the next wave of smart phones.