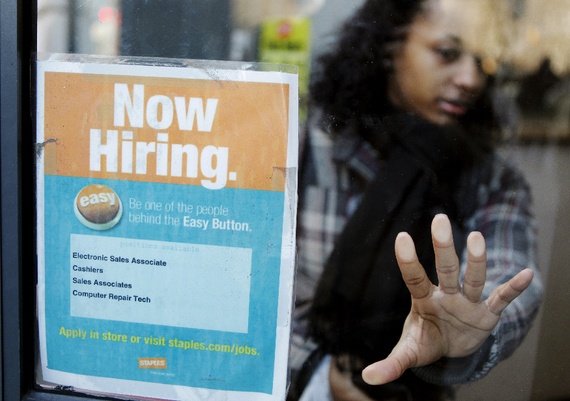 "Youth Unemployment is the Next Global Crisis"
"America's 10 Million Unemployed Youth Spell Danger for Future Economic Growth"
"Relentlessly high youth unemployment is a global time bomb"
There's no doubting that worldwide, kids are out of work. In the United States alone, the unemployment rate for 15 to 24-year-olds is about 16 percent, nearly twice the national average. In parts of Europe, the figures are much worse, with a whopping 56 percent youth unemployment rate in Spain alone — representing about 900,000 people.
But do these high numbers represent a global labor market crisis that imperils future growth, as the headlines warn? Maybe not. Maybe instead, they're evidence of a generation of college graduates determined not to settle, which bodes well for our future.
To understand why, it's worth a quick detour through history. Until the early 20th century, there was no clear concept of "unemployment." Classical economics emerged in the late 19th century at a time when there was an ample supply of labor to feed the relentless maw of industrial production in both Europe and America. Because there was no social safety net, people worked in order to generate essentials such as food, clothing and shelter. You had to work to survive, and there was always work to be done and need for bodies to do it. Many believed that "unemployment" was only an option for vagrants, who were in turn viewed as immoral.
The Great Depression threw those views into question. Millions found themselves unable to find jobs, even when they wanted to. The Bureau of Labor Statistics began to create an unemployment rate in the 1930s, and with it a definition of what qualified as "the workforce" and of what it meant to be unemployed. A key aspect of the definition was not that you were "out of work" but rather that you were actively looking for a job, yet unable to find one. It pointed to a flaw — either temporary and cyclical, or longer-lasting and structural — with the labor market and, by extension, with the economy as a whole.
Today, the high levels of youth unemployment are viewed primarily as a breakdown in the labor market and a sign of a failing system. That's why so many call it a "crisis." But if you start to look at the patterns of youth unemployment, a different set of conclusions is possible.
It's best to start with the unemployment rate among recent college graduates, which attracts the lion's share of attention. According to a recent Georgetown University study, about 8 percent of recent college graduates are unemployed, and the number is about 10 percent for students majoring in the arts, law, public policy, and most social sciences. The BLS actually says the situation is worse, with the unemployment rate for those under the age of 29 with only a bachelor's degree above 15 percent for men and around 11 percent for women.
And the true unemployment numbers might actually be higher. For instance, in assessing unemployment among younger people the Bureau of Labor Statistics faces greater challenges in obtaining responses from cell phone users who don't have land lines. Moreover, many of these recent grads are working in a succession of short-term jobs, which is difficult to classify in employment surveys.
Take a 25-year-old woman I met recently, who left her job to develop an app, work on a live-stream talk show, and write a book. If by some chance the Bureau of Labor Statistics contacted her, she would say that she doesn't have a job, and hasn't been looking. She would simply evaporate from the labor force and not be considered unemployed. But are her decisions a symbol of systemic crisis and failure? No.