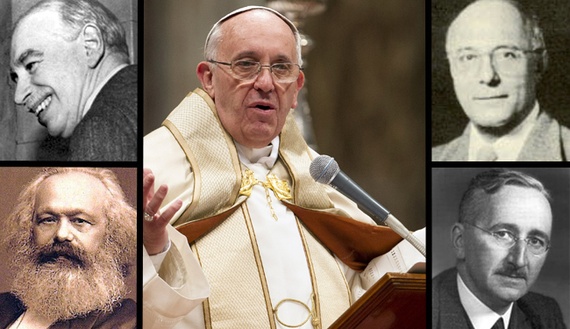 It would make for some pretty amazing headlines if Pope Francis turned out to be a Marxist.
Between his hints at rehabilitating liberation theology—condemned by his predecessors—and talk about casting off "the economic and social structures that enslave us," Marxism isn't totally out of the question.
But happily for nervous church leaders, Francis's first Apostolic Exhortation, issued Tuesday, doesn't quite suggest someone who would get "Marx" in an Internet-style "Which Economic Theorist Are You?" quiz. Granted, he wouldn't exactly get Friedrich von Hayek or Ayn Rand, either.
But you know whom he might plausibly be matched with, though? A favorite political economist of anti-free market academics: Karl Polanyi.
Karl Polanyi is most famous for his book The Great Transformation, and in particular for one idea in that book: the distinction between an "economy being embedded in social relations" and "social relations [being] embedded in the economic system." 
Polanyi's Big Idea: The Economy Has to Serve Society, Not the Other Way Around
Economic activity, Polanyi says, started off as just one of many outgrowths of human activity. And so, economics originally served human needs. But over time, people (particularly, policy-making people) got the idea that markets regulated themselves if laws and regulations got out of their way. The free market converts told people that "only such policies and measures are in order which help to ensure the self-regulation of the market by creating the conditions which make the market the only organizing power in the economic sphere." Gradually, as free market-based thinking was extended throughout society, humans and nature came to be seen as commodities called "labor" and "land." The "market economy" had turned human society into a "market society."
In short (as social sciences professors prepare to slam their heads into their tables at my reductionism), instead of the market existing to help humans live better lives, humans were ordering their lives to fit into the economy.
What Pope Francis Said
Now, back to the pope. Pope Francis, in his exhortation, notably does not call for a complete overhaul of the economy. He doesn't talk revolution, and there's certainly no Marxist talk of inexorable historical forces.
Instead, Francis denounces, specifically, the complete rule of the market over human beings—not its existence, but its domination.
"Today everything comes under the laws of competition and the survival of the fittest," he writes. "Human beings are themselves considered consumer goods to be used and then discarded," and "man is reduced to one of his needs alone: consumption." He rejects the idea that "economic growth, encouraged by a free market, will inevitably succeed in bringing about greater justice and inclusiveness in the world." Instead, he argues, growing inequality is "the result of ideologies which defend the absolute autonomy of the marketplace and financial speculation," which "reject the right of states, charged with vigilance for the common good, to exercise any form of control." And he repeats the exact language he used in an early address: "Money must serve, not rule!"
Seeing the similarities yet?
Polanyi, the Pope, and Blaming the Market for Big Crises
Where things get really interesting is when Pope Francis brings up the financial crisis. "One cause of this situation," he writes, "is found in our relationship with money, since we calmly accept its dominion over ourselves and our societies. The current financial crisis can make us overlook the fact that it originated in a profound human crisis: the denial of the primacy of the human person!"