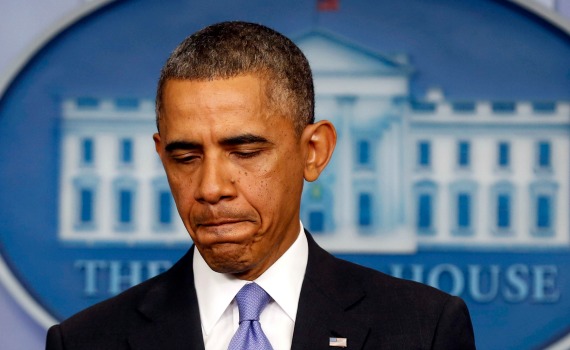 Reuters
If you like your individual healthcare plan, you still probably can't keep it. But now, thanks to its administrative fix, the Obama administration can try blaming that on insurers.
Let's back up. Obamacare does a lot of things, but the one big thing it does is try to make the individual insurance market work for more than just healthy people. Right now, insurers discriminate against people with preexisting conditions and sell bare-bones policies to others. So you can't get insurance if you are sick, and don't get much insurance if you become sick. Obamacare forces insurance companies to offer everyone the same policies at the same prices regardless of preexisting condition (though not age). To ensure that sick people don't get junk insurance, the law also sets minimum benefit levels.
Sound reasonable? Well, it backfired big time. Insurance companies canceled their least comprehensive plans, so lots of people needed to shop for a new, legal plan on Healthcare.gov. But Healthcare.gov doesn't work. So they're left in the lurch. As Jonathan Cohn points out, many people losing their insurance would probably be happy with their choices (and maybe subsidies) under Obamacare. But, again, they don't know about these. And, in this case, ignorance is more panic-inducing than blissful.
Obama has a plan to try to alleviate the panic—and shift the blame. Here's what it would do in three steps.
1. Let insurers offer plans that don't meet Obamacare standards for another year. Obama now says insurance companies can sell one-year plans that don't meet these minimum benefit levels for another year—through the end of 2014, and not 2013.
This is more politics than policy. It lets the administration say it's trying to let people keep their plans if they like them—and blame the insurers if they don't. But why wouldn't people be able to keep their old plans now? Wouldn't insurers want to keep healthy people the bare bones policies they're already selling them? Well, maybe not. See, insurance companies have already set prices for next year's Obamacare-compliant policies—which, remember, cannot discriminate against people with preexisting conditions. So insurers would lose money if they kept selling cheap polices to healthy people and new policies to sick people. They need healthy people to pay more to make it all work. Or, alternatively, they'll need to charge more for Obamacare-compliant policies in the future. That's why insurance companies might not offer their old plans, and why the state insurance commissioners of Washington and Arkansas have said they won't go along (though California, Florida, and Kentucky will).
2. Make insurance companies tell people who are thinking about keeping their old plans about Obamcare's alternatives. There's one condition if insurers do decide to use this extra year to keep selling plans that don't meet minimum standards. They have to tell their customers 1) what the new plans cover that their old plans don't, and 2) that these new plans might actually be cheaper for them. In other words, the administration is trying to get the insurance companies to tell people what they would find on Healthcare.gov if it worked.