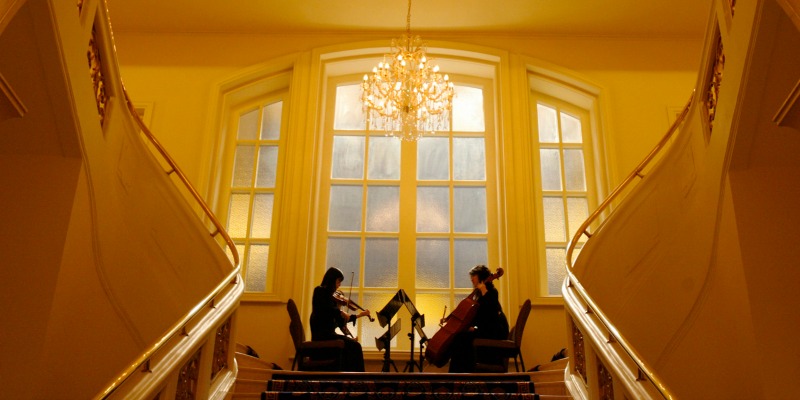 Several months ago, this author sat at a classical music concert, trying to convince himself that wine is not bullshit. 
That may seem like a strange thought to have while listening to Beethoven's Symphony No. 7 in A major. But Priceonomics had recently posted an article investigating The Price of Wine, part of which reviewed research that cast doubt on both consumers' and wine experts' ability to distinguish between quality wine and table wine or identify different wines and their flavors. It seemed a slippery slope to the conclusion that wine culture is nothing more than actors performing a snobbish play. 
Listening to an accomplished musician while lacking any musical experience resulted in a feeling familiar to casual wine drinkers imbibing an expensive bottle: Feeling somewhat ambivalent and wondering whether you are convincing yourself that you enjoy it so as not to appear uncultured. 
Given the inexplicable, unintuitive conclusions of this research on wine, thinking about classical music promised firm ground to stand on. Despite the influence of class on classical music consumption and the fact that outsiders do not necessarily recognize and enjoy great music performances, no one believes that Beethoven and their 10 year old cousin play the piano equally well. Surely in just the same way a $2,000 bottle of wine and a $5 bottle are not indistinguishable? 
This past week, however, Priceonomics reviewed research that cast similar doubt on our ability to appreciate great performances of classical music. 
As we wrote in a more recent post, wine is not bullshit. But the reason that research can seemingly suggest that our enjoyment of wine, certain foods, and classical music is BS can tell us a lot about snobbery and how we experience the finer things in life, the limitations of expert judgment in any field, and why marketing is so powerful. 
Watching Not Hearing
Chia-Jung Tsay was an extremely talented young pianist. She performed at Carnegie Hall at age 16, attended prestigious conservatories, and competed in music competitions. But her success seemed inconsistent. During auditions, she noticed that she did better when she performed live or provided a video than when she submitted an audio recording. 
Tsay could have harbored dark suspicions about the judges for the rest of her life. But today she is also a talented psychologist and an assistant professor in Management Science and Innovation at University College London, so she set up an experiment to examine the role of visual cues in judging musical performances. 
Tsay took the actual audition recordings of the top 3 finalists from 10 prestigious international classical music competitions and asked a group of participants to select the winners. One group watched a video audition, the second group listened to an audio recording of the same audition, and a final group watched the video audition with the sound turned off. 
As her study participants were untrained in classical music, Tsay expected them to do no better at choosing a winner than random chance. This proved true for the first two groups, who chose the winner less than 33% of the time. But to everyone's surprise, the amateurs did significantly better than chance when watching only a silent video. 
Source: PNAS
Tsay then replicated the experiment with professional musicians and found the same results. Despite their expertise, the musicians also did no better than chance at picking the winner based on audio or video recordings. But when they watched a silent video recording, they too performed dramatically better. 
Source: PNAS
Expert judges and amateurs alike claim to judge classical musicians based on sound. But Tsay's research suggests that the original judges, despite their experience and expertise, judged the competition (which they heard and watched live) based on visual information, just as amateurs do.
Looking Not Tasting
The key to understanding the aforementioned wine research - without concluding that the entire wine industry is a massive conspiracy powered by snobbery to sell identical fermented grape juice - is that just like with classical music, we do not appraise wine in the way that we expect. 
In a follow up to our article on the price of wine, Priceonomics revisited this seemingly damning research: the lack of correlation between wine enjoyment and price in blind tastings, the oenology students tricked by red food dye into describing a white wine like a red, a distribution of medals at tastings equivalent to what one would expect from pure chance, the grand crus described like cheap wines and vice-versa when the bottles are switched.
The research is popular, cited regularly in blog posts and articles that either call wine tasting fraudulent or (more commonly) conclude that when it comes to the enjoyment of wine, price tags and perceived prestige trump the physical product. 
To get a grasp on what this means, we related how we see the same confusion with food. 
Taste does not simply equal your taste buds. It draws on information from all our senses as well as context. As a result, food is susceptible to the same trickery as wine. Adding yellow food dye to vanilla pudding leads people to experience a lemony taste. Diners eating in the dark at a chic concept restaurant confuse veal for tuna. Branding, packaging, and price tags are equally important to enjoyment. Cheap fish is routinely passed off as its pricier cousins at seafood and sushi restaurants. 
Just like with wine and classical music, we often judge food based on very different criteria than what we claim. The result is that our perceptions are easily skewed in ways we don't anticipate.