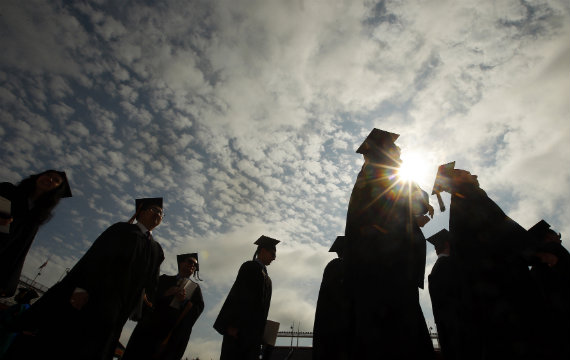 On the first day of the Association of Private Sector Colleges and Universities annual convention, a storm worked its way towards the convention center. More than a thousand people milled inside Rosen Shingle Creek, one of the golf resort/convention centers that are endemic to central Florida. The attendees had come for the annual congress of for-profit colleges, hosted by the sector's trade association and central lobbyist. Its theme: "Opportunity for all."
That night, a self-described "futurist and demographer" took the stage to deliver the keynote address. Kenneth Gronbach is a big man with a bigger voice, going after laughs more than longitudinal studies. Gronbach calls himself a "generational marketing expert," and has written a book called The Age Curve. Subtitle: "How to Profit from the Coming Demographic Storm."
Gronbach's presentation began with a joke: "How many people are really excited to listen to a demographer for an hour?" A little manic, Gronbach paced the stage, taking audible sniffs as he caught his breath and delivered the next slide. "We're going to concentrate not on money and stuff, but on people," he said. But for Gronbach people are opportunity, and opportunity is money.
Gronbach spoke for nearly an hour, touching on everything from Honda motorcycles to how Generation Y requires "transparency, integrity, sense of green, humanitarian, fairness, cyber, and empathy" in the workplace. At one point he said, "I don't think we could invent a better immigrant than a Latino."
APSCU had brought Gronbach to the convention to try and help its member schools — all for-profit colleges that cater to 13 percent of American higher education students — better understand their target audience. Who were these students that needed vocational certificates and degrees? How best to get them to enroll, and how best to get them to graduate? As Gronbach promised, "Generation Y is going to change everything. They are going to change your lives."
For the people in charge of for-profit schools, they already have. They've made them very rich. Between 1998 and 2008, for-profit enrollment increased 225 percent by one count, nearly eight times the rate of the rest of higher education. During the bleakest days of the Great Recession, stock prices soared as students went back to school in a bad job market. In 2009, publicly traded for-profits were $3.2 billion in the black, before taxes. But now for various reasons — a rebounding economy, harsh media coverage of the sector's abuses, and tighter federal regulation — enrollment is down across the sector. A talk like Gronbach's was meant to pep up morale.
"The antiquated college system is a rotary phone," Gronbach said before lauding the private sector schools for being more nimble than traditional schools. That's where their advantage lay, he said. "If you do it right, you'll be wearing diamonds as big as radishes."
Soon, a loud hiss started to drown him out, working its way across the room. It was the rain, moving across the thin roof, pounding, hissing, pleading to be let in. The storm had come.
Feeding Off the Government
If you care about understanding the country's student loan situation, the best place to start is with for-profit colleges. For the past ten years there has been no sector that's relied on student loans more than for-profit schools, and no sector that's used them more to its advantage.
For-profits include brands you've heard of — University of Phoenix, Kaplan, DeVry — and small mom-and-pop outfits you haven't — Fountainhead College of Technology, National Tractor Trailer School, and Spartan College of Aeronautics and Technology. Overall, it's estimated over 4 million students attend for-profits annually.
In a more innocent time we called these schools career colleges; their express purpose is to prepare people to take on a job they wouldn't have been able to get otherwise. They offer certificates, associate's, bachelor's and grad degrees, like any other school, just with more of a focus on the outcome than the process. It is all about school equating to a job. In that sense for-profits are the rare party in higher education that acknowledge what college has become: a commodity.
Take, for instance, Corinthian Colleges, Inc., a network of over 100 for-profit schools across the country. Founded in 1995 and IPO'd in 1999, Corinthian has grown by purchasing other schools and creating its own campuses where it sees demand. Unlike many for-profits, Corinthian focuses on campus-based learning, with three main brands spread across the country: WyoTech, Heald, and Everest, each with its own specialties. WyoTech has a host of automotive repair courses. Heald offers associate's degrees in business administration. Everest's medical assistant certificates are very popular, at around $16,000 a pop. About 90,000 students attend one of the Corinthian schools.
The people signing up for the courses are, by and large, the ones for whom a traditional college setting isn't ideal. They're usually older, poorer, busier, or some combination of the three. And yet they're spending more money on college. By some counts, 96 percent of for-profit students take out loans, and nearly all of them are drawing from federal financial aid. In comparison, only 13 percent of students going to community college take out loans, because community colleges are a fraction of the cost.
So why go to for-profits? Because they offer the luxuries of convenience and efficiency. Matthew Mastrogiovanni, a 44-year-old logistics administrator went to an Everest campus in South Plainfield, New Jersey to change his career and get certified in its 9-month electrician program. Mastrogiovanni's whole family had been to Everest — his wife completed the Medical Insurance Billing and Coding program, and she only went because she was so impressed with the sales pitch when she brought their son in to register for a pharmacy technician program. For Mastrogiovanni, who works night shifts but wanted a career change, it was their testimonial plus Everest's "very flexible schedule," that appealed. He said Everest had told him the electrician field was booming with jobs — "and it is booming if you're 18 and you're living at home with mom and dad," he said. He faults Everest for not specifying that the jobs wouldn't pay him what he needed as a middle-aged guy with a family. Since graduating almost a year ago, he's had only one job interview, and he found it on his own. He still works in logistics for a stock room company. His electrician program cost more than $19,000. He's had to put his loans in deferral as he pays off the Everest loans for the rest of his family.