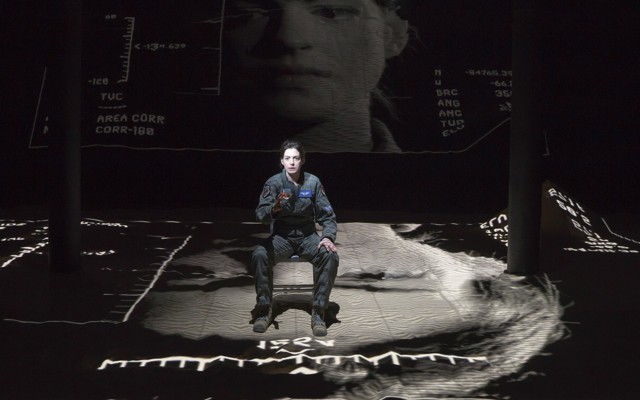 Unmanned
As drone warfare becomes a more familiar concept in American life, anxiety about its ubiquity—and what it means for humankind—is being explored in film, theater, and music.
When Banksy Soured The Simpsons

While the art world is still obsessing over Banksy's new temporary theme park/anarchist's day out, "Dismaland," it's worth…

Have We Reached 'Peak TV'?

The head of FX thinks a glut of new TV shows "has created a huge challenge in finding compelling original stories." But might what's bad for networks ultimately be good for viewers? Atlantic writers discuss.

Can Benedict Cumberbatch Save Theater From Cellphones?

The actor, currently starring in a production of Hamlet in London, is trying to persuade his fans to turn off their devices while they're watching live performances.

True Detective Season Two: No More Heroes

In a climactic season finale, the show attempted to wrap up (almost) all of its loose ends.

Cruise Controlled

During the multi-country press tour for Mission Impossible: Rogue Nation, not even Jon Stewart has dared ask Tom Cruise about Scientology.

True Detective Season Two: The End of an Orgy

Ani went undercover, Frank embraced his sensitive side, Paul tested his powers of observation, and Ray went insane.

Ashley Monroe's The Blade: Sharp and Sweet

The country singer's follow-up to 2013's Like a Rose is a confident layering of whiskey-soaked angst and lyrical contentment.

Woody Allen's Dark, Tedious Fantasies

Irrational Man, like so many of the prolific filmmaker's works, is a loosely drawn exploration of the desire to do terrible things.

True Detective Season Two: Pimps, Vultures, and Plastic Surgery

After last week's climactic shootout the dream team was dissolved, but a state's attorney has plans to get the band back together.

Go Set a Watchman: What About Scout?

Jean Louise Finch is a flawed but compelling heroine who attempts to unravel both her father's appalling views and her own, less obvious, prejudice. She alone makes Harper Lee's second novel worthwhile reading.

True Detective Season Two: Kiss Kiss, Bang Bang

A disorienting series of clues led the team to a dramatic face-off outside a Vinci warehouse.

When Scout Grew Up

The first chapter of Go Set a Watchman suggests that Jean Louise Finch is a very modern heroine.

True Detective Season Two: Fathers and Sons

The show reveals what happened to Ray, while Bezzerides and Woodrugh investigate the mayor, and Frank indulges in some amateur dentistry.

The Gender Politics of Magic Mike XXL

Can a movie about male strippers be a loud affirmation of feminism? Three Atlantic writers discuss.

In Praise of the Humble Workplace Safety Video

The poor production values and overly emphatic voiceovers define an art form that is timeless, sometimes terrifying, and quintessentially American.

The Tao of Orange Is the New Black

Throughout season three, the Netflix show has fashioned an unmistakeable philosophical thesis: All humankind is fundamentally flawed, but kindness can save us.

True Detective Season 2: Enter Birdman

The second episode of the new season was a slow burner with a dramatic twist.

In Defense of Pocahontas: Disney's Most Radical Heroine

20 years after the movie's release, its character and premise still feel notably progressive.

True Detective Season 2: Welcome to Vinci

The pitch-black HBO crime drama returns with a new location, and a host of new emotionally tortured characters.

Jagged Little Pill at 20: A Roundtable

Three Atlantic writers discuss the seminal Alanis Morissette album two decades after its release.