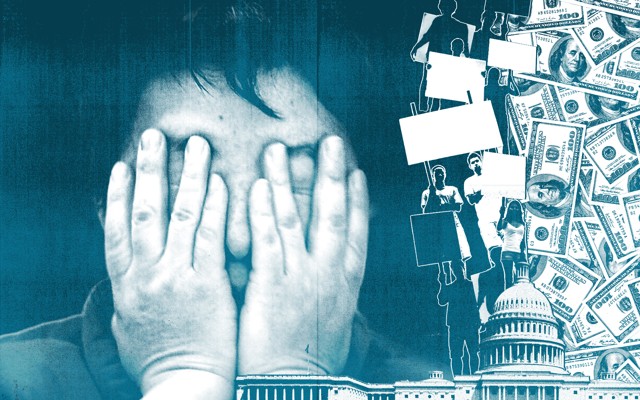 The Tragic Neglect of Chronic Fatigue Syndrome
It leaves people bed-bound and drives some to suicide, but there's little research money devoted to the disease. Now, change is coming, thanks to the patients themselves.
Inna Harlamoff / Shutterstock

The Makeup Tax

Women who wear makeup earn more and are treated better. This has steep costs, in both money and time.

Olga Khazan / The Atlantic

Coping With Bad News

For physicians who treat sick children, professional "masks," such as white coats and detached demeanors, can be both a help and a hindrance.

Carlos Barria / Reuters

The Bizarre Celebration of 'Unplanned Parenthood'

Why a pro-life Twitter hashtag—like the larger campaign to defund Planned Parenthood—is terrible for public health

Jorge Adorno / Reuters

The Soul of the Metallica Lover

What our music tastes say about our personalities

Liebre.De.Marzo / Flickr

Can Eye Movement Work Like Therapy?

A controversial treatment shows promise, especially for victims of trauma.

David W Cerny / Reuters

The Mean Drunk

When people act differently under the influence, it could be a sign of an alcohol problem.

DementevaJulia / Shutterstock

The Diaper Dilemma

How not being able to afford a basic baby necessity hurts mothers' mental health and their ability to parent

FaceMePLS / Flickr

The Toxins in Feminine-Hygiene Products

How perfumed toiletries—particularly douches—lead to dangerously high levels of chemicals in the body

Americans United for Life / Flickr

Planning the End of Abortion

State legislatures have enacted a slew of abortion restrictions in recent years. Americans United for Life wrote most of them.

Daniel Ochoa de Olza / AP

What It's Like to Be Gored at the Running of the Bulls

… and go back to run the next year.

Lexe-I / Flickr

Spill the Beans

Some see the ability to keep secrets as a virtue, but a series of studies suggests there's a hidden downside for the confidant.

SAMS / YouTube

Will This Wetsuit Keep Away Sharks?

A team of Australian researchers want to protect surfers by dressing them in zebra stripes.

Isabel Eyre / Saaleha Bamjee / Flickr

I Made the Pea Guac

It wasn't that bad. But it did help me understand why it made people so angry.

Nguyen Huy Kham / Reuters

The Best Way to Day-Drink Is With Low-Alcohol Brews

This Independence Day, we should take a page from the Founding Fathers, as well as our ancestors around the world, who imbibed gallons of low-alcohol beer pretty much all the time.

Navesh Chitrakar / Reuters

How Walking in Nature Prevents Depression

A study finds that wild environments boost well-being by reducing obsessive, negative thoughts.

Lauren Giordano / The Atlantic

The End of Gay Conversion Therapy

A New Jersey jury found a Jewish counseling group designed to turn people straight is guilty of consumer fraud. Experts predict other states may soon do the same.

Jim Young / Reuters

'We Doubt That Is What Congress Meant to Do'

The U.S. Supreme Court upholds Obamacare in a 6-3 decision, deferring to the intent of legislators.

Steven Senne/ AP

It Pays to Be Nice

… even when other people are screwing you over.

Olga Khazan / The Atlantic

Working a Million Hours to Heal a City

Can a Chinese-born wunderkind ER doctor cure what ails Baltimore?

Olga Khazan / The Atlantic

'Wanna Grab a Marijuana Tea After Work?'

As pot laws liberalize, cannabis capitalists eye opportunities for business—and to upend stereotypes. But can white-collar workers handle it, man?