The Long GOP Fight to Defund Planned Parenthood
Fetal-tissue research enjoyed bipartisan support amid decades-long efforts to revoke government funding to Planned Parenthood.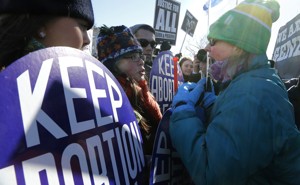 The Push to Destigmatize Abortion
Pro-choice activists hope that getting women to talk about their experiences will boost support for the movement.
The Senate's Pushback on Abortion Restrictions
Democrats have introduced bills to undo the Supreme Court's ruling on religious exemptions for contraception coverage, as well as state laws that single out abortion services, but the legislation isn't expected to succeed.